Compatible with Windows
10, 8, 8.1, 7, Vista, XP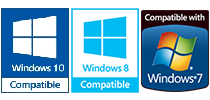 Our Customers Say:
Thank you for this excellent software and all the hard work you put into it! Our photo studio staff mastered the program in a flash, no training was needed. There's plenty of features that are extremely useful for a business like ours, smart layout printing and order statistics among them.
Malcolm Barrows, Salt Lake City, USA
I struggled with some other ID photo makers until I stumbled upon this stunning software. Everything works like a dream, the interface is cute and easy to use. Changing background and clothes are really helpful to make any photo perfect.
Ellie Stonebridge, Bath, Great Britain
Photography Business Software – Making the Right Choice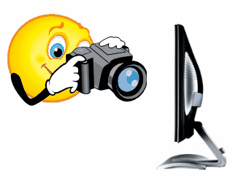 In the digital age, photography business software has become just as important for professional photographers as a high-end camera and lighting kit. Given the variety of computer programs on the market, it's a hard choice to make for a startup photo studio. Commercial licenses for professional photo processing applications are often too pricey, and have a steep learning curve. Besides, it often turns out that you don't really need all the features offered by a certain program. So, it will be wise to do some research rather than purchase one of the popular products.
What should you take into consideration when choosing photography business software? First of all, decide if you only want an image processing tool, or some client management features for automating your business as well. There are many other extras you may find useful. Obviously, it all depends on the type of services provided by your photo studio. For example, if you shoot weddings, you will appreciate picture slideshow software for producing wedding DVDs.
ID photography is a popular branch for anyone starting a photography business. This type of service is always in demand, and helps you master the tools of the trade before trying something more challenging. However, the latest requirements for ID photos are very strict due to the introduction of biometric passports. The data required to generate the facial biometric information come from the photo supplied with the passport application. Therefore it is essential that passport and visa photos comply with the recognized international standards. This applies both to the dimensions and to the quality of the photographs.
If you decide to order ID photography software, have a closer look at Passport Photo Maker. This professional application will help you make top-quality passport photos. Its built-in biometric features detection module guarantees that the dimensions of the photo match the official requirements. There is an ID types directory that stores dimensions and guidelines for all common documents of different countries. An image editing toolkit lets you adjust colors and retouch imperfections, whereas convenient monitor calibration ensures the print quality. Quick background replacement is another feature useful for ID photography.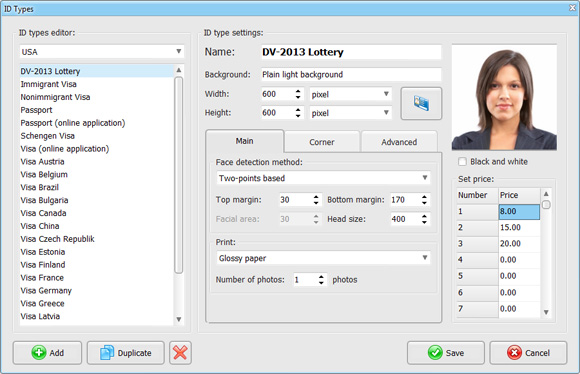 In addition to image processing and ID photography specific features, Passport Photo Maker has a series of tools for order management. It allows you to set prices for various services, such as saving a photo, printing a photo, saving a print layout, burning photos to CD etc. There is convenient order statistics which can be exported to a spreadsheet. You can also set passwords to restrict access to all important features and data.
All in all, Passport Photo Maker can be highly recommended as ID photography business software. Note that the commercial license for this software is good value compared to most similar products, and it can be even more affordable with multi-user licenses.
Create and print high quality ID photos with Passport Photo Maker!