Compatible with Windows
XP, Vista, 7, 8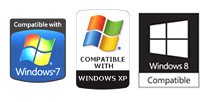 Our Customers Say:
Thank you for this excellent software and all the hard work you put into it! Our photo studio staff mastered the program in a flash, no training was needed. There's plenty of features that are extremely useful for a business like ours, smart layout printing and order statistics among them.
Malcolm Barrows, Salt Lake City, USA
I struggled with some other ID photo makers until I stumbled upon this stunning software. Everything works like a dream, the interface is cute and easy to use. Changing background and clothes are really helpful to make any photo perfect.
Ellie Stonebridge, Bath, Great Britain
Download Passport Photo Maker Now!
Download Passport Photo Maker - professional ID photo software.
Version: 7.00
Release date: July 14, 2014
Interface languages: English, French, Spanish, Portuguese, Dutch, Czech
Compatible with: Windows 8, 7, Vista, XP

This ID photo software has a stylish user-friendly interface, it is convenient and quick to master. Advanced image processing modules, a wide range of features and high quality print output make Passport Photo Maker a unique ID photo making software tool, great both for home users and for professional photo studios.
Support Center
Frequently Asked Questions
Ask a question
Create and print high quality ID photos with Passport Photo Maker!