Compatible with Windows
10, 8, 8.1, 7, Vista, XP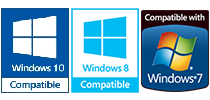 Our Customers Say:
Thank you for this excellent software and all the hard work you put into it! Our photo studio staff mastered the program in a flash, no training was needed. There's plenty of features that are extremely useful for a business like ours, smart layout printing and order statistics among them.
Malcolm Barrows, Salt Lake City, USA
I struggled with some other ID photo makers until I stumbled upon this stunning software. Everything works like a dream, the interface is cute and easy to use. Changing background and clothes are really helpful to make any photo perfect.
Ellie Stonebridge, Bath, Great Britain
US Passport Picture Requirements – 2019
Applying for the US Passport make sure you follow the passport picture requirements carefully. Your photo must be the right dimensions, and the officials should clearly recognize you when they look at your passport. Spend a few minutes reading how to take a passport photo – this way you can avoid a delay in processing your passport application caused by the picture being rejected.
If you have enough time, it's better to get your passport picture taken in a professional photo studio. However, it is also possible to do it at home. You can use your ordinary camera and convenient software for making passport photos – it helps you prepare your photograph for printing in a couple of simple steps.
Please check out the latest passport picture requirements when you prepare a photo for the US passport:
The picture must be in color and printed on photo quality paper.
Provide a recent photo no later than 6 months so it reflects your current appearance.
The photo must be taken against plain white or white-off background, without any pattern or objects behind you.
The passport picture must measure exactly 2 x 2 inches (51 x 51 mm), with the head measuring from 1 inch to 1 3/8 inches (25 mm - 35 mm), and the eyes placed between 1 1/8 inches to 1 3/8 inches (28 mm – 35 mm) from the bottom of the photo.
You must directly face the camera so it takes a full-face front view. A neutral facial expression is a standard for today's biometric photo requirements. Smiling and frowning are not acceptable. Your eyes should be open and clearly visible. There must not be any shadows, or hair across the face.
You should wear normal everyday clothes, not a uniform or national costume, except for religious clothing worn on a daily basis.
There should be no head coverings like hats or veils, no headphones and similar objects on your head. If you wear a head covering for religious reasons, you may leave it on, but it must not obscure any parts of your face, showing it from the hairline to the bottom of the chin.
If you normally leave glasses, take care there is no glare on the lenses, and the frames do not obscure your eyes. Sunglasses or tinted lenses are not acceptable. If you wear glasses with tinted lenses for medical reason, a certificate may be required to prove that.
Passport pictures must not be digitally altered or retouched to change the appearance.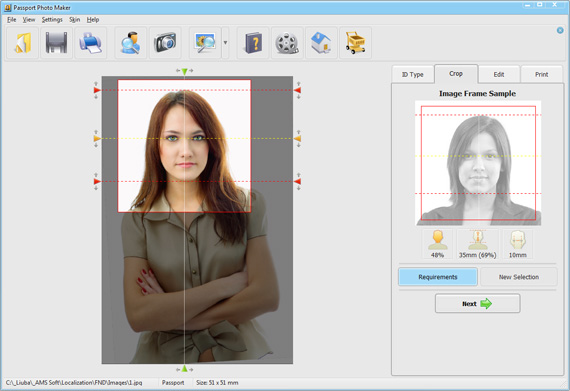 Note that the passport picture requirements outlined here also apply for the US visa and green card (permanent resident card) photos. Need a Canadian visa picture or UK passport photo? Passport Photo Maker will offer you up-to-date ID photo templates for most countries in the world.
Create and print high quality ID photos with Passport Photo Maker!
Check Out More of Our Photography Guides: