Irish Passport Photo Requirements
Need to have your Irish passport renewed? Or is it your first time applying for it? Whichever it is, your papers should comply with all the strict criteria in order to pass verification. Since the majority of passport and visa applications are rejected because of bad photos, it's crucial to follow all the guidelines on passport photo sizes for Ireland. In this article, we'll not only tackle the standards and rules of taking a perfect Irish passport picture, but will also give you tips on how to make a 100% approvable pic in just a few minutes. Let's get going!
Need new Irish credentials?
Create perfect ID pictures with passport photo software!
Irish Passport Photo Requirements 2023
Now, let's have a closer look at the Irish passport photo sizes, both for offline and online application.
Let's take a gander at technical specs of printed pictures first:
Digital and printed pics have the same head size requirement

The dimensions of your passport photo should be 35mm x 45mm minimum or 38mm x 50mm maximum
The picture should show a close-up of your face
Your face should take up 70-80% percent of the frame
The pictures should be taken recently (no more than 6 months old)
You are expected to provide 4 identical copies of the picture
Your picture should be printed on a high quality paper
No doctoring of the pictures is allowed
Black and white pictures are preferred, but color pictures are also accepted
The reverse of your photo should be white and non-glossy
Write down the number of your application on the reserve of two pictures, sign and stamp them
And here are the specs for digital passport photos:
The photo you provide should not be scanned
The picture should be in color
The image should be no less than 715 pixels wide and 951 pixel in height
The picture should be in JPEG format
The file must not be larger than 9 MB
Do not compress the photo
Make sure the image has no artifacts or distortion
Your photo must not be digitally enhanced
Irish Passport Photo Specifications
As with most official ID photos, Irish passport photo requirements aren't just limited to sizes and dimensions. Here are other important guidelines you should follow when taking your passport pic:
The background of your picture should be plain, light grey, white or cream
Make sure that nothing covers your face and that your facial features are clearly seen
You are allowed to wear glasses, but the frames should not obscure any part of your face. Make sure that there is no glare from the lenses. Tinted or sun glasses are not allowed
You can have your headwear on if it is for religious or medical reasons. But make sure that your face is still clearly visible
The picture should be in focus and evenly lit
There should be no shadow covering your face
Make sure there is no red-eye effect
Your facial expression should be neutral. Do not tilt your head
The photo should display your image from head to mid torso
Since taking a proper passport photo is essential, make sure that you get acquainted with all the Passport Office guidelines provided by the Department of Foregin Affairs located in Dublin.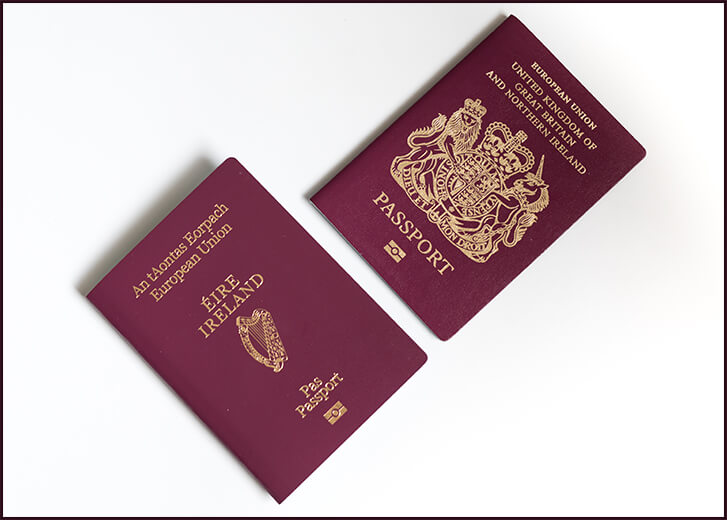 Are you a UK citizen as well? Then have a look at the UK passport photo requirements.
Baby Photos for Ireland Passport
While kids' photos for Irish passports should comply with all the requirements, taking a picture of your little one can pose a challenge - kids aren't into sitting still, right? But there are few tricks that can make the process of taking baby photos a bit more bearable. If your baby cannot support itself, you can photograph it lying down. Just put your infant on a plain white blanket and shoot from above. Make sure that nothing else gets in the frame - no toys or pacifiers. If you photograph your kid sitting down, be sure to keep your hands and arms out of the frame. Your child should have a neutral facial expression.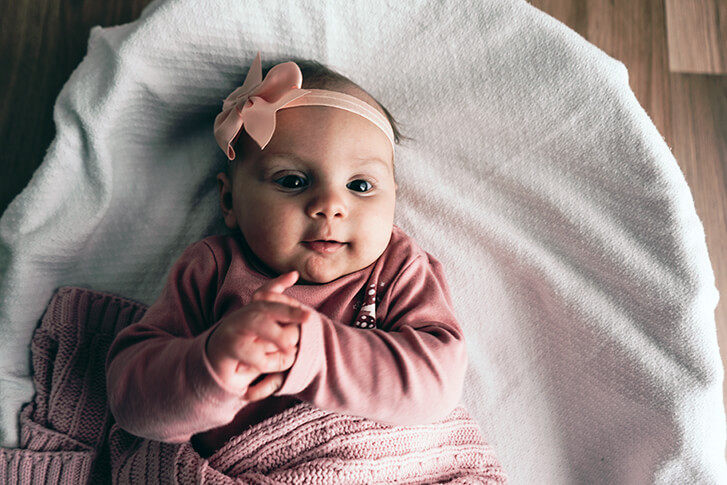 Convenient Irish Passport Photo Tool
Now that you know all the latest sizes and specs for an Irish passport picture, it's time to decide how you are going to take the photograph. Sure, you can always turn to photo studios and photo booths, but wouldn't it be easier and cheaper if you could prepare your ID photo yourself? Turns out - you can.
With the help of Passport Photo Maker, a handy ID photo tool, you can take full control over your passport or visa photos. Just take a picture with your camera, cell phone, or web camera, and open it within this software. Now, pick Ireland from the country list and choose Passport from the ID options. That's basically all the work you'll have to do, because Passport Photo Maker will instantly crop your picture according to all the standards.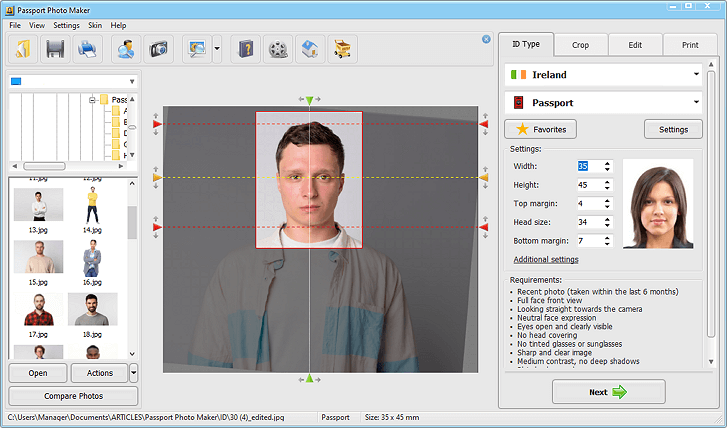 This convenient ID photo cropper is equipped with a facial features recognition technology and templates for most common IDs for 130+ countries. Besides, within you'll find a background editing tool, a red-eye removing instrument, and a digital wardrobe you can use to look more presentable.
Need a 100% compliable pic for your Irish passport? Get started with Passport Photo Maker today!