Compatible with Windows
10, 8, 8.1, 7, Vista, XP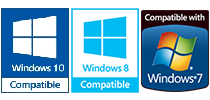 Our Customers Say:
Thank you for this excellent software and all the hard work you put into it! Our photo studio staff mastered the program in a flash, no training was needed. There's plenty of features that are extremely useful for a business like ours, smart layout printing and order statistics among them.
Malcolm Barrows, Salt Lake City, USA
I struggled with some other ID photo makers until I stumbled upon this stunning software. Everything works like a dream, the interface is cute and easy to use. Changing background and clothes are really helpful to make any photo perfect.
Ellie Stonebridge, Bath, Great Britain
Passport Photo Guidelines – UK
If you intend to apply for the UK passport or renew your old one, you've probably already heard about the new passport photo guidelines resulting from the introduction of biometric passports. Such passports have become common across the world since they make it easier to prevent theft of identity and fraud. What is the meaning of biometric identification, and what changes does it bring?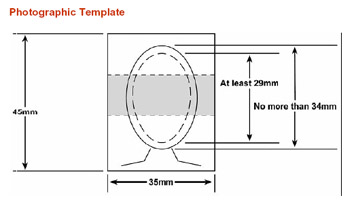 Biometric details are features unique to a person, such as iris, facial features, or fingerprints. Every passport issued in the UK today must contain biometric data of the holder. These data are received by measuring the facial features and then converting the measurements into values stored on a chip. The details to be measured - the distances between eyes, nose, mouth and ears – are taken from the photo you supply. Therefore it must comply with the official passport photo guidelines. Following them you will avoid problems and delays while processing your passport application.
Here are latest UK passport photo guidelines:
The photo must be in color, 45 mm high x 35 mm wide
Taken within the last month
Taken against a plain cream or light grey background
Clear and in sharp focus, free from shadows
The head must be between 29 and 34 mm high (the head height is the distance between the bottom of your chin and the crown of your head)
Neutral facial expression, eyes open and clearly visible, mouth closed (no grinning, frowning or raised eyebrows)
Facing forward and looking straight at the camera, with both ears equally visible
No hair across any part of the face
No sunglasses or tinted glasses
If glasses are worn for medical reasons, make sure there is no glare or reflection, and the frames do not cover the eyes
No head covering, unless worn for religious beliefs or medical reasons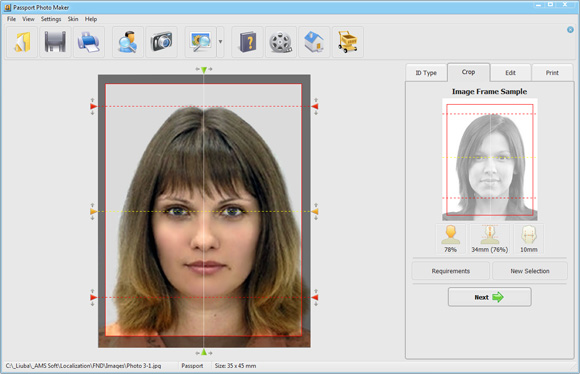 Today we are free to choose between having our photo taken by a professional and taking it ourselves. If you decide to make a passport photo at home, you can take your time and choose the perfect image. The crucial steps include cropping and printing the photo. Keep in mind that the officials will require a professionally printed photo. If you don't have a photo quality printer, the best thing to do is to prepare the print layout at home and take it to a print shop.
Both professional photo studios and home users will benefit from using an ID photo editor. This software has a special biometric features recognition module along with all necessary presets for preparing a correctly sized photo. The application will crop the photo according to the new passport photo guidelines. After that, you can adjust the background color, enhance the photo quality, and prepare a print layout. At every step of working with the program you will get tips and hints to guarantee that your photos will pass the passport office regulations.
Create and print high quality ID photos with Passport Photo Maker!