Compatible with Windows
10, 8, 8.1, 7, Vista, XP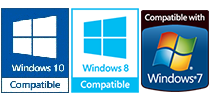 Our Customers Say:
Thank you for this excellent software and all the hard work you put into it! Our photo studio staff mastered the program in a flash, no training was needed. There's plenty of features that are extremely useful for a business like ours, smart layout printing and order statistics among them.
Malcolm Barrows, Salt Lake City, USA
I struggled with some other ID photo makers until I stumbled upon this stunning software. Everything works like a dream, the interface is cute and easy to use. Changing background and clothes are really helpful to make any photo perfect.
Ellie Stonebridge, Bath, Great Britain
Professional Passport Photo Software
Passport Photo Maker is the ultimate software tool that helps you prepare and print ID photos in no time. The program complies with the latest requirements for passport and ID photos of 130+ countries. Equipped with presets for a range of ID types such as passport, visa, driving license etc., it lets you create professional quality ID photos in a few minutes. We use our experience in image processing to make your photos perfect.
Passport Photo Maker offers ideal solutions both for home users and professional photo studios. It features a stylish intuitive interface, an easy-to-master toolkit, and advanced image processing algorithms. The smart print module provides fully customizable settings and ensures the best quality of your photos.
Make perfect ID photos in a minute!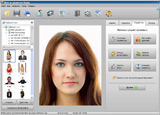 Prepare professional quality ID photos in four simple steps:
Select the document from the built-in ID types editor
Crop photo using markers or auto face detection
Edit, retouch, and enhance pictures
Print ID photos or save print layout
Make ID photos for 130+ countries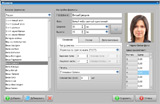 Integrated up-to-date requirements for ID photos
Photos for national passport or travel documents
Standard photo sizes. White corner and rounded mask options
Photos for driving licence, visa, student card, and other identity cards
ID documents for 130+ countries: USA, Canada, UK, Australia, France, Germany, Italy, Spain, and more. Add and customize ID types!
Print ID photos smartly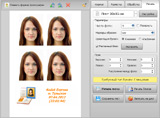 Print on any paper size. Add custom paper settings
Easy monitor calibration for the best print output
Print any number of photos on a page
Portrait and landscape orientation
Save print layouts for later printing
Add markers for precise trimming
Create perfect background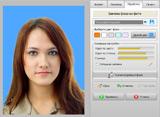 Change background automatically
Fill background with any color
Blur textures and create smooth transitions
Convenient manual adjustment tools
Integrated undo brush
Change clothes on photo
Replace clothes inside the program
Large templates kit with 100+ items in Studio version
Men's and ladies' clothing
Apply and compare different clothes
Adjust the color of clothing
Import clothes from Photoshop
Easy-to-use editor interface
Quick-Start Tips on Making ID Photos
Compatible with Windows
10, 8, 7, Vista, XP