How to Take a Passport Photo at Home - Quick Guide
Most of us have been unhappy with our passport photos made in photo booths. Good news: now taking passport photos right at home is a reality. You don't need a pro-level camera or a studio toolkit. You can take pictures with your iPhone, then adjust the dimensions and prepare the photo for printing with ID photo software. This way you will save a lot of time and money each time you need pictures for passport, visa, ID card, etc.
Choosing the right software is an important decision if you intend to make a passport photo at home. The program should crop and edit pictures according to passport picture requirements. In this case, they will be accepted by the officials. It goes without saying that an application for home users must be easy, intuitive, and pocket-friendly. Passport Photo Maker is an excellent solution, even if you're not on speaking terms with computers at all.
Make passport and ID photos for any country
right at home with Passport Photo Maker !
Here's how the software helps you make a passport photo at home in three simple steps:
Step 1. Choose the best photo or take a new pic
First of all, take several shots following all the requirements: stand in front of a white background, avoid direct light to get an image without shadows, and keep a neutral face expression. You will find some tips for taking passport photos inside the program – click on the camera icon on the tool pane.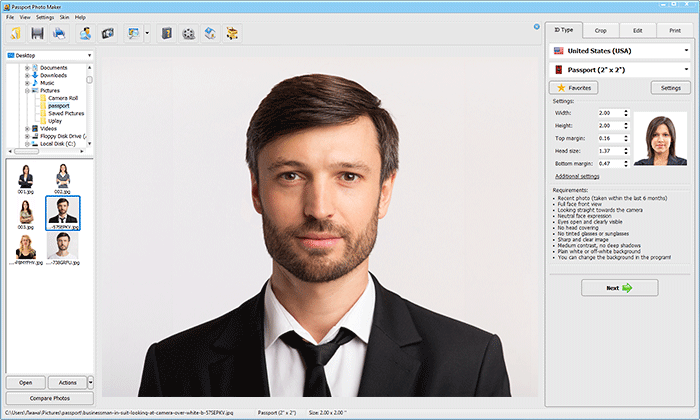 Now you have two options – add one photo for processing, or compare your shots to choose the best one. Click Compare Photos in the bottom left corner, and drag the photos right from the Windows folder. Choose the best picture, and click Select.
Step 2. Crop the photo in one click
Cropping is probably the most important step, since there are strict dimensions your passport photo must follow. They differ depending on the document type. For example, U.S. Passport Photos requirements feature a high-quality photo sized 2x2 inches. To get the right dimensions, first you need to select the country from the drop-down list, then pick a document type. In the full version of Passport Photo Maker automatic facial features detection is enabled by default, i.e. the crop is performed once you add the photo.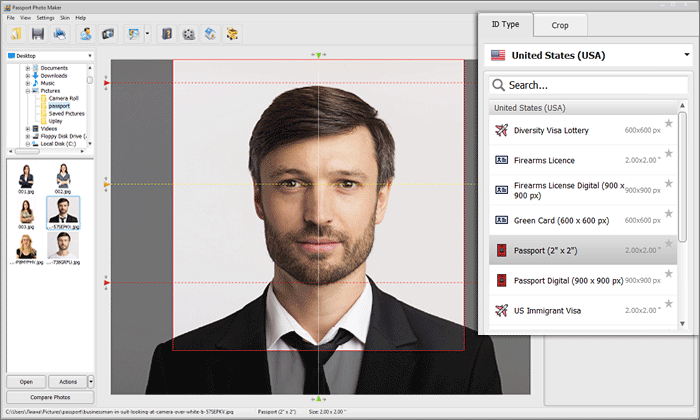 Make sure the yellow horizontal line goes through the center of the eyes, the vertical line marks the center of the face, and the red lines mark the chin and the crown. If you prefer to mark the features manually, open the Crop tab. Click New Selection and follow the instructions that will appear on the right.
Step 3. Save or print your passport photos
After adjusting the crop, open the Print tab. Pick the paper size and enter the number of photos needed. Print markup is very convenient for trimming the photos - choose between standard, cross, or line. Adjust the margins.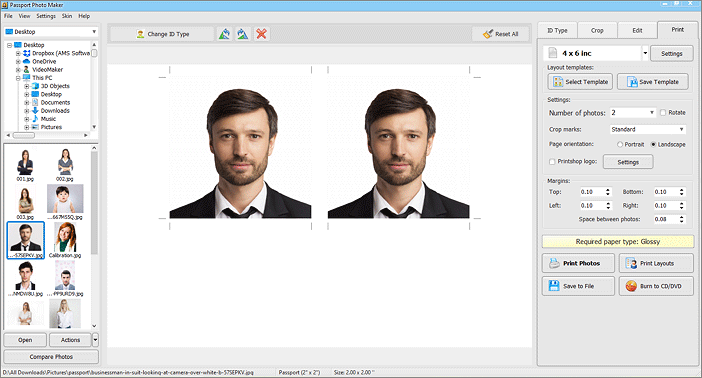 When the print layout is ready, you have two options. Click Print photos if your printer is good enough to print passport photos at home. Alternatively, you can click Save to File, transfer the print layout on a flash drive and take it to a print shop.
Passport Photo Requirements
Now that you are ready to make your passport photo at home, let's see what the general requirements for this type of document are:
Photo should be recent (taken no more than 6 months prior to the application).
Look straight towards the camera. Don't tilt your head or look away.
Keep a neutral facial expression. Refrain from smiling, closing your eyes or opening your mouth. Your hair should not cover your eyes or ears.
Take your photo in good lighting conditions. It will help you avoid any strong shadows, under- or overexposure, or digital noise.
Do not put on any head coverings or headwear, unless you wear it on a daily basis because of your religion.
Take off your glasses. Since November 2016, the rules prohibit wearing glasses in passport photos. So even if you have a doctor's prescription, you can't put them on.
Do not retouch your image in any way, avoid removing any spots or wrinkles. This rule is especially vital if you apply for a biometric passport.
While taking a photo of a baby, don't support the infant with your hands. Lay the child on a blanket, distract it with toys and take a picture. For kids who are 12 years and older the requirements are the same as for the grown-ups.

Most of these requirements can be applied to the British passport as well. However, the specs often get changed, so it's better to check UK Passport Photo Requirements.
As you can see, making pictures at home is rather easy. What's more, this is a great way to save both time and money. Now that you know how to take a passport photo at home, put the knowledge to good use and make perfect ID images!