Compatible with Windows
10, 8, 8.1, 7, Vista, XP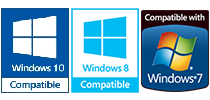 Our Customers Say:
Thank you for this excellent software and all the hard work you put into it! Our photo studio staff mastered the program in a flash, no training was needed. There's plenty of features that are extremely useful for a business like ours, smart layout printing and order statistics among them.
Malcolm Barrows, Salt Lake City, USA
I struggled with some other ID photo makers until I stumbled upon this stunning software. Everything works like a dream, the interface is cute and easy to use. Changing background and clothes are really helpful to make any photo perfect.
Ellie Stonebridge, Bath, Great Britain
How to Make a Visa Photo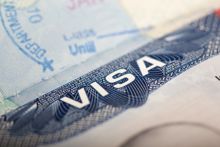 If you travel a lot, you know that a lot of countries require a visa to be allowed in. There are different sets of rules in every country that can be really frustrating, and that also applies to a visa photo. Whether you are a regular traveler or run a photo studio, you might want to know how to make a visa photo.
Requirements for a visa photo may vary in different countries – photo dimensions, head size, background color etc. In order to meet the requirements you have to find the latest information and be able to apply it properly. It becomes a difficulty when you work a lot with visa photos and are required to change settings often. There are tools to make this process easier, and today it is not difficult to obtain one.
A tiny yet powerful ID photo maker is to serve all your needs. This software tool allows you to prepare and print a photo for visa in a very short time. The program is designed according to all official requirements for passport, visa, driving license or any other ID card photos of different countries, such as USA, Canada, UK, Australia, France, Germany, and more.
The integrated ID types editor features a number of presets: photo size, background color, number of photos, paper type etc. – all of these can be modified and saved if necessary. The database has all of the popular ID types, such as Schengen visa photo, US visa photo etc. All you need to do is select the country you're travelling to – the program will then prompt you how to make a visa photo for this country. Regular updates ensure that your photos will meet the official requirements.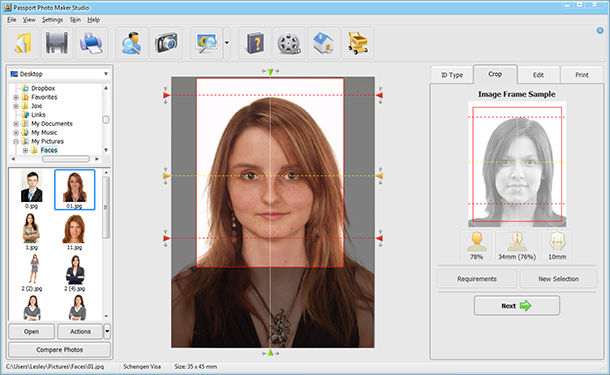 Passport Photo Maker allows you to quickly yet efficiently edit your photos. You can manually crop photos or use auto face detection. The picture can be enhanced in just a few clicks: photo retouching, including red eye removal, clothes change with 100+ templates, lighting correction. The background replacement module helps to pick the suitable background. When editing is done, you can print the required number of photos or save them for later printing.
The program is an ideal solution both for home users and professional photographers. An easy to learn interface, advanced image processing, a powerful toolkit, a smart printing module – all that makes it a perfect photo tool. And what is even better – the trial version is available for free download right now. The program is available in different editions for individual users and professional photo studios.
Create and print high quality ID photos with Passport Photo Maker!