Chinese Visa Photo Requirements
Planning to visit China? Whether you're going there for a business, education or tourist purpose, you'll need a visa to enter China's mainland borders. The procedure of getting Chinese visa is standard and quite simple - fill in a special form, attach your photos and submit the application.
However, there's something to keep in mind: a handwritten application form will be rejected so type all the needed information. A photo for Chinese visa is another thing of high importance - from the complete guide below, you'll discover how to make it in compliance with the official requirements.
Photo Specifications for Chinese Visa
The size of the visa picture

The photo must be exactly 33 mm wide and 48 mm high
The background must be plain white or light blue
The head must be centered, its size should be 28-33 mm
The image should be sharp, in color and reflect the natural skin tone
The eyes must be open and well visible
The facial expression should be non-smiling, neutral, with the mouth closed
No hairstyle covering the face is allowed
No dark or heavy rimmed glasses are allowed
No head jewelry or headgear unless for religious or medical aims is allowed
Casual clothes contrasting to the background are permitted.
Need your Chinese visa photo ready ASAP?
It's a matter of seconds with passport & visa photo maker:
China Visa Photo Guidelines
The general visa photo specifications are easy to follow. Nevertheless, you might want to get some tips on how to make an image that will be accepted by the Chinese Embassy or Consulate with no need to retake it. Those are listed below:
The background must be solid color only. Colors other than white or light blue are not acceptable. The photo with busy or patterned backgrounds will be rejected. Also, avoid shadows behind your head and neck.
Your outfit should be a contrasting color so avoid white or blue top of your clothing.
Don't pose halfway round and don't tilt your head. Look straight at the camera so both of your ears are well visible. Avoid any facial gestures because they distort the features of your face - don't smile, don't frown, don't bend your brows, don't show any other emotions. Keep a neutral and relaxed facial expression.
Keep your hair neat because the hairstyle blocking parts of the face is forbidden. Fashion headwear and jewelry are not allowed. Religious or medical headgear is permitted unless it covers the face.
Red eyes are not permitted so don't use a camera flash.
Men are allowed to be photographed with a beard since it's their everyday look. If you normally don't have a beard, avoid growing it for a visa photo.
To make your eyes fully seeable, take your spectacles off. If it's not possible, make sure that the frame of your glasses is thin and lenses are not tinted.
Before taking a photo needed for Chinese visa, manage the lighting in the room properly. The natural day light is preferable but if you need to use electric sources, place the bulbs at about head-height at approximately 45° from your face.
Too dark, too bright and blurry photographs are not acceptable.
Requirements for Babies Photos
Every baby needs their own visa for travelling to China so you'll have to prepare your kids' photographs for an application as well. A child's photo for Chinese visa should meet the official requirements just as an adult's one. The rules for an infant visa photo are a bit more flexible though. Taking newborn pictures can be distressful and turn into a real challenge, but following the guidance below, you'll manage to take a decent baby's photo within a short time:
A child has to be photographed individually, no one else must be visible in a visa photo. Use a baby seat or put your little one on the floor covered with a blue or white blanket.
Infants under 6 months are allowed to have their eyes closed and mouth open. Still, you can try and catch the moment when a baby is wide awake - plan a photocall after a feed but before they get sleepy. For a frontal view, attract you kid's attention with a noisy toy placed behind the camera.
The photo should show both ears and the chin of your child.
No children's bottles, dummies and toys are permitted in the photo.
Do not use a flash and avoid shadows in the background and across the baby's face, it's not acceptable.
Photo Examples
To make sure the photo you've just created meets the official specs, take a look at the examples below. There you'll see approved pictures and Chinese visa photos with the most common issues that can be the reason for your visa application to be delayed.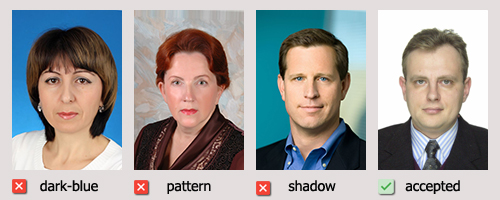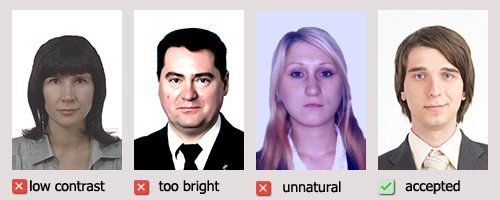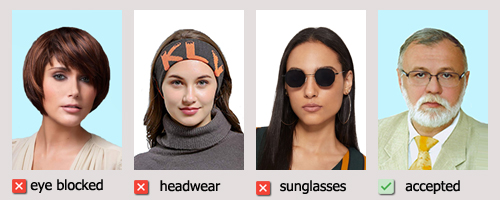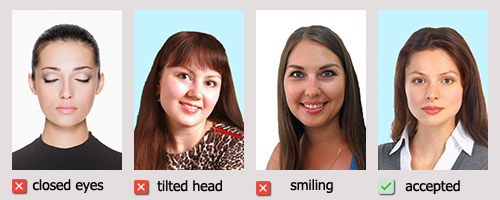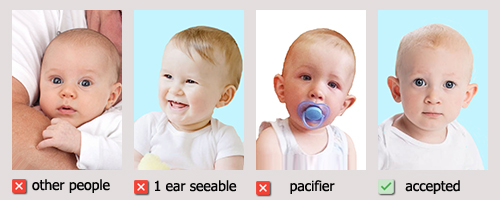 How to Make Chinese Visa Photo with Passport Photo Maker
Have you got the photos for your Chinese visa application? It's time to prepare them so that they meet the requirements and now Passport Photo Maker comes to your assistance. It's a powerful image editor that allows you to make visa photos with a couple of mouse clicks. Passport Photo Maker software is convenient both for professional or home usage. The program comes with a smart module that detects the facial features automatically and creates a biometric passport photo within a few seconds.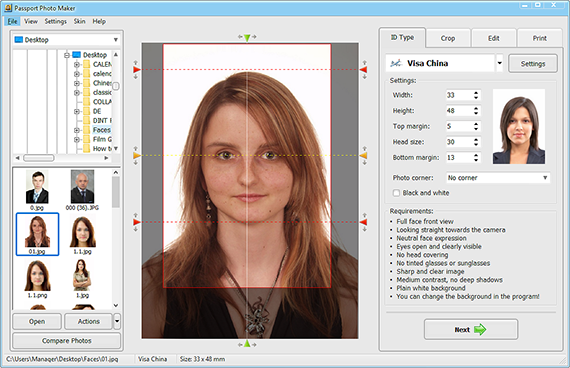 If needed, adjust the settings of brightness, contrast and saturation to achieve a higher quality of your picture. To eliminate the red eyes effect, use the Red Eye Removal tool. Sharpen certain areas of your photo and fix small skin flaws. Note that major retouching of official ID photos is not allowed so don't overuse the editing toolkit.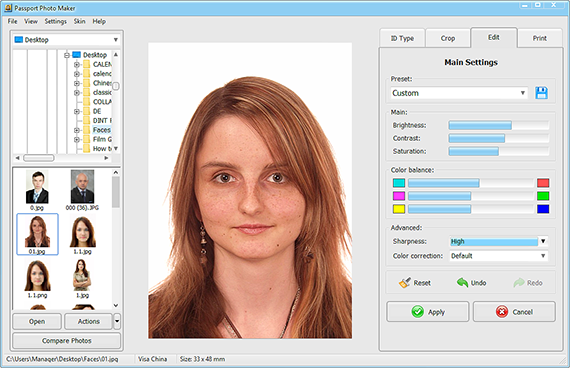 Want to submit your application online? Passport Photo Maker offers you an option to create a digital photo for Chinese visa. Just set the image dimensions (354-420 pixels wide by 472-560 pixels high),file format (JPEG or PNG) and size (40-120 KB) and save it to your computer.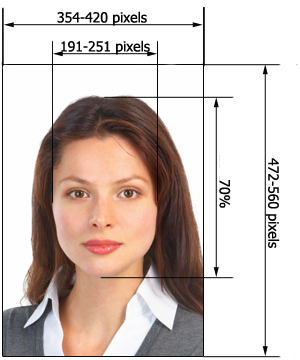 Create a perfect Chinese visa photo with Passport Photo Maker!
Check out more guides on visa photos: