Singapore Passport Photo Requirements and Size
Singapore is one of the world's busiest ports, the world's second-largest oil refining power, and a major international financial center. There are several advantages of being a Singapore citizen: the ease of traveling with a Singapore passport and the benefits of in-country education, health, housing, and employment. This guide is for everyone who is going to become a citizen of this country and get its passport. Here, you'll find the Singapore passport photo size, the shooting tips, as well as a convenient passport photo tool.
Need to prepare your own photo for the Singapore passport?
Try Passport Photo Maker to get your picture ready in minutes:
Singapore Passport Photo Size and Specification
To avoid rejection, you need to follow the official rules for preparing Singapore passport photos. Fortunately, these rules aren't too strict, so you can save time and take such a photo yourself. It's easy, quick, and convenient. Look through the ICA's requirements or use our tips below.
Provide two identical photos of yourself.
Make sure that your photos are taken or updated within the last three months.
Take only colored photos.
The dimensions of Singapore passport photo size must be 35 mm x 45 mm (1 3/8 inches x 1 3/4 inches).
The ratio of a digital passport photo is 400 x 514 pixels.
The head size must be 32-36 mm which takes about 70-80% of the photo.
Do not alter or enhance your photo as any face modifications aren't endorsed by ICA.
You can use a photo taken on a mobile phone, but don't take a selfie, as its result is usually not sufficient quality.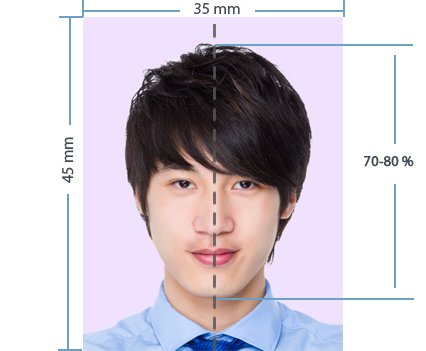 Easy Singapore Passport Photo Guidelines
Ready to take your own photo? The Singapore passport photo requirements are easy to comply with but you need to carefully examine them before taking a camera into your hands. For your convenience, we've prepared some useful recommendations to help you take an appropriate photo. Go through the checklist below and your photo won't be rejected:
Keep a neutral facial expression.
You can take a photo wearing spectacles, but they must have untinted and clear lenses. If you wear lenses, they mustn't be colored.
Your mouth should be closed, and your eyes open. Make sure your eyes are clearly visible, and you look straight into the camera.
Hair can be either up or down, but try not to use bright accessories.
Your head and shoulders must be clearly visible.
Choose the proper background: there should be no colors, patterns, etc. The best way is to use white background – it can be a wall or a sheet.
The attire must be dark to contrast with the white background.
You need a clear and well-lit photo in sharp focus.
Check that your photo isn't distorted or flipped.
Follow the same recommendations when taking a digital passport photo
Basic Requirements for Babies Photos
If you have a baby, you also have to make a passport for them. Photographing children under the age of 4–5 has some difficulties, so the regulations are more relaxed. Keep these pieces of advice in mind to take an appropriate photo of your baby.
A baby must be alone in the photo.
If you hold your baby, make sure that your hands aren't visible.
Make sure your baby has no pacifiers, toys, or bottles in their hands.
IYour baby should be facing forward.
To get the best result, you may also use a sheet for the background.
Singapore Passport Photo Editor
Using the guidelines above, it's quite easy to take a passport photo for Singapore. After that, you'll need to crop the photo for your passport. It takes just a few seconds if you have a reliable Singapore passport photo editor. We'll be using Passport Photo Maker.
Step 1.

Add your photo to the editor. Then find the SG passport template in the list of ID types. The program has a built-in cropping tool and automatic face detection. You don't need to choose the appropriate photo size – everything is done automatically!

The Singapore passport photo app crops your photo to the necessary size




Step 2.

While on the Edit tab, you can improve photo quality, change background automatically or manually, replace clothes if necessary, etc. In some clicks, you can improve your photo – the Singapore passport photo editor gives you everything you need to make it professional quality.

Lighten dark areas in the photo if needed




Step 3.

The smart printing module lets you print your photos on any size of paper. You can add as many photos as you need. Change paper orientation if it's necessary. In case you apply online, you can convert your file to PNG or JPG and save a digital copy.

Adjust margins to place as many photos on the page as you need
As you see, it's totally easy to prepare your photo for submission yourself. Just make sure you follow all the Singapore passport photo requirements to get a proper result.
Create a Singapore passport photo in 3 simple steps
with Passport Photo Maker!
With Passport Photo Maker, you can make various types of photos. You won't need any other service, as this tool is a cheap and quick solution for anyone. Apart from passport photos, it lets you make a visa photo for any country of the world in just a minute.
Check out more guides on passport and visa photos: