Compatible with Windows
10, 8, 8.1, 7, Vista, XP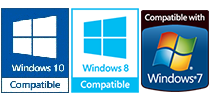 Our Customers Say:
Thank you for this excellent software and all the hard work you put into it! Our photo studio staff mastered the program in a flash, no training was needed. There's plenty of features that are extremely useful for a business like ours, smart layout printing and order statistics among them.
Malcolm Barrows, Salt Lake City, USA
I struggled with some other ID photo makers until I stumbled upon this stunning software. Everything works like a dream, the interface is cute and easy to use. Changing background and clothes are really helpful to make any photo perfect.
Ellie Stonebridge, Bath, Great Britain
Schengen Visa Photo Requirements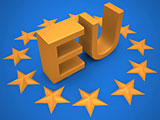 Travelling is a nice way to spend your holidays. Everybody wants to get great experience, and the first step to a carefree journey is to comply with all official requirements. Whether you go to Europe as a tourist or for business purposes, you will have to get a Schengen visa. The Schengen zone includes 26 countries, and the Schengen visa enables the passport holder entry into countries with little or no stops as internal border controls have disappeared.
To ensure you get your Schengen visa in a short time, follow these steps:
Find out which countries you will be travelling to and how long you intend to stay. When you visit more than one country you will obtain the Schengen visa from the consulate of the country you are to visit first. However, when making short trips the number of nights spent in a Schengen country determines which country you should apply to for getting the visa.
Check with the consulate what documents you need to obtain. Some countries require to book and pay for a flight and reserve an accommodation.
Some proof of funds will be needed. You have to provide the current bank statement when applying for a Schengen visa. You should not rely much on overdraft facilities.
Double check on your visa application form. You have to complete it right, sign it and attach two photographs.
Schengen Visa Photo Specs
For your application to be successfully approved, it is crucial to make an ID photo of professional quality that meets Schengen visa photo specifications listed below: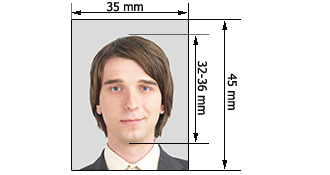 The photo measurements must be 35x45 mm.
The face must cover 2/3 of the photograph.
Two identical photos must be submitted.
The image must be clear, sharp and with sufficient contrast.
No photos are allowed with reflections or shadows on the face, or with red eyes.
The photograph should display a full frontal view of the face, with neutral expression.
The photos must be of high quality, color, and have a light background.
The photos should be printed on high-quality matte or glossy paper with at least 600 dpi resolution.
No head covering is allowed unless it is worn for medical reasons or religious beliefs.
No reflection or glare from glasses is allowed.
Schengen Visa Photo Guidelines
Although the official set of rules seems quite clear, there's always some seemingly unimportant details that need special attention. Let's take a closer look at the criteria to the Schengen visa photo size and format:
The head must be clearly visible on the photo, its height should be within 32-36 mm, normally it takes 70-80% of the image. Make sure that the face is centered and no part of it get cut. Avoid too much of a close-up - leave some space above the head and show the top of the shoulders.

Keep the face in the photograph sharply focused, it must have a strong contrast. Blurry, low-contrast and excessively bright images will most probably be rejected by the officials.

Overexposed or underexposed pictures are not accepted. The photograph should demonstrate the natural skin tones and avoid reflections on the skin or shadows across the face or behind the head. To take a proper ID photo, opt for natural daylight - the window should be behind the camera. If you need to use bulbs to light the scene, place 2 sources at about 45° angle to the face at the eyes level.

You should look forward with a neutral facial expression and eyes focused on camera. Keep your mouth closed, do not smile or bend your brows because facial gestures distort your face. Tilted head and eyes as well as the portrait style when you pose half-way round are also forbidden on Schengen visa photos.

The background must be plain and bright, but do not choose white. Neutral gray is the most suitable color because it gives hair and face the needed level of contrast. Avoid any patterns and objects in the background and remember that no one else must be visible on the photograph.

If you are wearing glasses, you are allowed to keep them on unless their frames are too heavy and cover your eyes. Avoid flash reflections and glares on the lenses. Sunglasses and tinted spectacles are not permitted.

Fashion headwear and jewelry are forbidden. You can leave your head garments on only for religious or medical purposes on condition that it does not cover any part of their face. Also, keep the hairstyle neat, long hair must not block the face.
Schengen Visa Photo Requirements for Babies
If you are planning a family trip to Europe, you should know that every baby will need their own passport and Schengen visa. Official demands to Schengen visa photos for babies are not that strict as for adults. You can either get a professional photographer to make a photo of your baby or make DIY images considering the following schengen visa photo instructions for children:
A picture of the infant can be taken either in a seat or lying on a floor. Use a grey blanket to provide the needed contrast with your baby.
No group photo is accepted. If your child needs to be supported, hide the holding hand under the cover - it must not be visible.
Mind the uniform lighting and head position to avoid any kind of shadows both across the baby's head or on the background.
No dummies, bottles and toys are permitted in the photo.
Infants have to have their eyes open and mouth closed looking straight at the camera. However, this rule is flexible for newborn babies.
How to Get Schengen Visa Photo at Home
All these requirements should be met in order for the photos to be accepted by the officials. Of course you can turn to a professional for help or take your entire family to a photobooth. But an easier and more comfortable way can be taken by using a Schengen visa photo maker. It's a convenient tool for creating appropriate visa photos. What's more, it will surely save your time and money. Use a digital or a smartphone camera to take a photo of each family member and edit it in Passport Photo Maker. In the screenshot below, there is a sample of a biometric photo for a Schengen visa.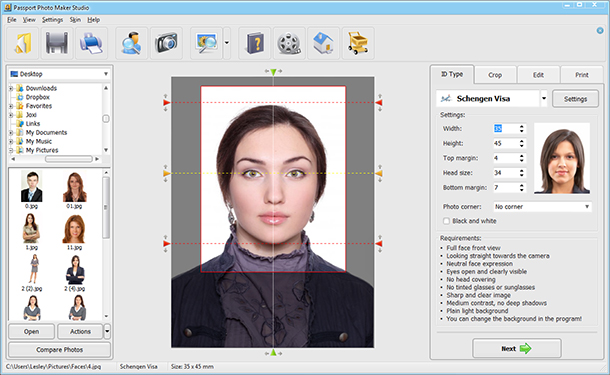 Thanks to the auto face detection the software instantly crops the photo in a proper way. Also, you can enhance contrast, sharpen the image, remove the red eye effect, and even change clothes just with a few mouse clicks. The smart printing module allows you to use custom settings and print on any paper size. Easy monitor calibration serves for the best printing output.
Apart from Schengen visa photos, the internal database of the program stores all common ID photo templates and is regularly updated. For example, you can use this photo editor to prepare 2x2 inches photo for a US passport, 3x4 cm photo for a Chinese visa, or 600x600 pixels photo for Diversity Visa Lottery.
ID photo software is available for free trial download. Check it out and make a high quality Schengen visa photo!
Create and print high quality ID photos with Passport Photo Maker!
Check Out More of Our Photography Guides: