Compatible with Windows
10, 8, 8.1, 7, Vista, XP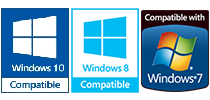 Our Customers Say:
Thank you for this excellent software and all the hard work you put into it! Our photo studio staff mastered the program in a flash, no training was needed. There's plenty of features that are extremely useful for a business like ours, smart layout printing and order statistics among them.
Malcolm Barrows, Salt Lake City, USA
I struggled with some other ID photo makers until I stumbled upon this stunning software. Everything works like a dream, the interface is cute and easy to use. Changing background and clothes are really helpful to make any photo perfect.
Ellie Stonebridge, Bath, Great Britain
Baby Passport Photo Tips

Do you need to get a passport for your little one, but can't find a good way to make the photo of the baby? Indeed, it often turns out to be a trick. Newborn children are too little to take them to a photo booth or photo studio. It is inconvenient, it is stressful and it can become annoying for everyone – for the kids, for their parents, for the photographer. Besides, it can take ages to edit the picture in Photoshop or a similar program, because a baby passport photo should meet certain requirements concerning the dimensions, proportions, colors, lighting etc.
Have you decided to make your baby passport photo at home? Passport Photo Maker can become the perfect program to sort it out. This application is an excellent passport photo editor that you can use to prepare any ID photos within a few minutes. In this guide we will give you some advice on how to complete this mission in non-stress mode.
Newborn passport photo requirements: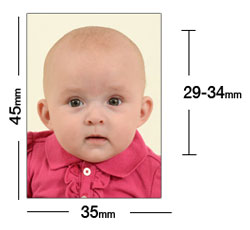 the image must be clear, sharp and focused;
the photo has to be taken less than 6 months ago;
the background of the child's passport photo should be light/plain colored;
the baby should look straight at the camera;
the baby's head should not be tilted, both ears and the chin are showing in the photo;
the newborn's facial expression does not have to be neutral, but it's a must for toddlers;
the child's mouth should be closed, although newborns are allowed to have it open;
there should be no shadows across the infant's face or background;
toys, bottles, pacifiers are forbidden in the baby passport photo.
It can be a real challenge to make a decent photograph of a newborn. However, knowing some secrets you will certainly be successful at it.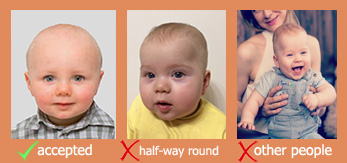 First of all, sit your infant in a baby chair covered with a white plain sheet. For too young babies you can place a white blanket on the floor and put the newborn on the top of it. If needed, you can support the baby's head, but do not forget: no hands showing in the photo are permitted. The best way to hide your hands is to put one of them under the back of the child's shirt and hold their head with three fingers.
To avoid any shadows on the child's face, ears, shoulders and on the background place the light source in front of the baby. Make sure the size of the baby passport photo complies with the requirements and there is enough place to crop the image correctly. To get a decent photo, place the camera around 1.5 meters away from the infant. The right photo dimensions and the correct head size are among the most important features for your application to be accepted. You can make a few shots, compare them and choose the best photo in Passport Photo Maker.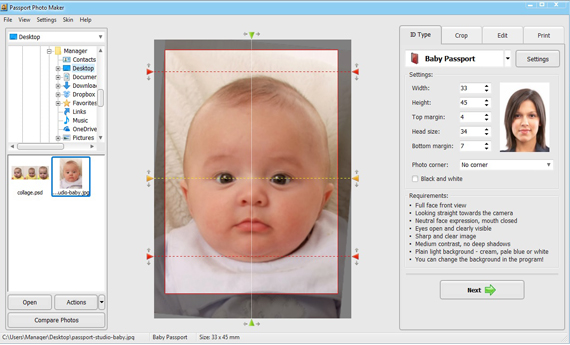 This software presents an autocrop option, which is essential when you are creating a biometric passport photo. The facial features are detected by the program, but if needed, you can crop the image manually. In the Edit tab, there are some standard image editing tools – correct the color balance, saturation, contrast, sharpness to get high-quality photos. If you have a photo printer you can print the baby passport photos straight away, otherwise just save digital files to your computer or memory stick and go to a photography shop.
Try Passport Photo Maker - it is a good way to save your time and money when you need to get some ID photos for your family and yourself.
Create and print high quality ID photos with Passport Photo Maker!