Need a Convenient Passport Photo Cropping Tool?
Crop your photo to passport size with Passport Photo Maker!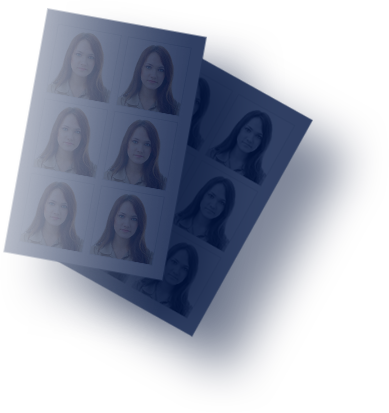 Passport Photo Cropper: Fully Compliable Photo in 2 Seconds
Need to crop a passport photo? There are lots of requirements you need to follow. They make a simple process of taking a photo rather complicated. How to avoid a mistake and create a photo that for sure will be accepted by the officials? Check out Passport Photo Maker! With this smart passport photo cropper, you will be able to make a passport or visa photo in just 4 steps.

Just 4 easy steps to get a perfect passport photo. Why not follow them instead of going to a photo studio? Download the program for free right now:
Quick Guide on Using Passport Photo Crop Tool
Prefer detailed guides over short tutorials? Here are the steps on how to crop a passport photo with our software:
Add your photo. Open your image by clicking the Open Photo button or just drag and drop the photo into the program.
Pick the ID type - for example, US passport. Click Settings in the ID Type tab. Select the country and the US passport format from the list.
Ensure сompliance. Once you choose the ID type, the program will recognize the face features automatically and crop your photo for the passport according to the guidelines. Check if the cropped photo meets the official requirements. You can see them at the bottom of the ID Type tab.
Save the photo for a digital application. Open the Edit tab, set the desired DPI and file format - JPEG or PNG - then save the photo. Our photo cropping tool for passport lets you make an image for the US or UK passports, US visa, and tons of other IDs.
Print the photo. Go to the Print tab, pick the paper format and click Print Photos to get your pictures right away.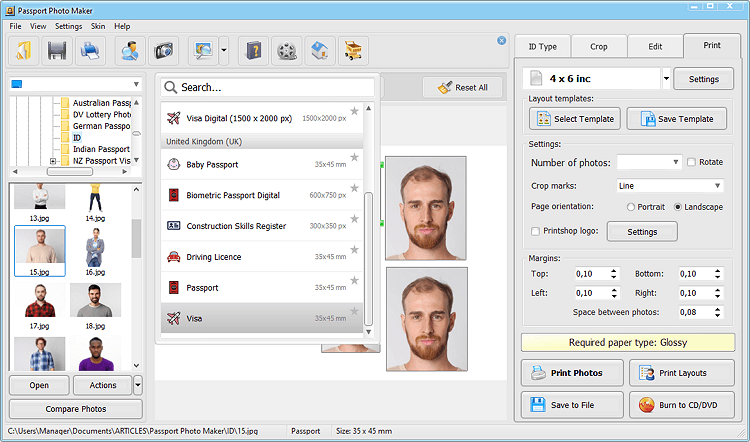 Passport Size Photo Specs & Guidelines
Want to make a photo for the US passport? Make sure it meets the latest requirements. Here they are:
You need to crop your photo to 2 x 2 inches (51 x 51 mm)
The head must be between 1 -1 3/8 inches (25 - 35 mm)
You will need a colored photo, taken in last 6 months
The background should be plain white or off-white
The image should be printed on matte or glossy paper
You can't retouch the US passport photo
The printed photo should not be damaged with holes, burned, etc.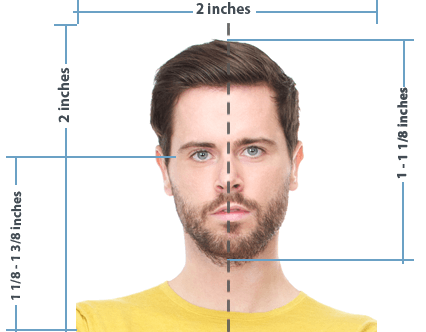 FAQ on Taking Passport Photos
Since you can crop a photo yourself using a passport photo cropping tool right at home, you probably have a few questions about taking pictures. Are there any requirements for clothing or expression provided specifically by the Department of State?
Let's dwell on the most common questions:
What clothes should I wear? Put on clothing you wear on a daily basis. Don't put on uniform or camouflage.
Can't I just bring a selfie? No selfies. Such photos usually have a wrong camera angle and tend to be over- or underexposed.
I have a problem with my hearing sense, can I still wear my hearing aids? Yes, you can. However, other devices like wired or wireless headphones and Bluetooth are not allowed.
Can I retouch or edit the photo? I want it to be beautiful. No, as we said above, you can't digitally change the photo. It's better not to apply any auto enhancing effects as well.
I wear a hijab, what should I do? Usually, wearing hats or face covering is not allowed. However, if you must wear head coverings due to religious beliefs, then make sure that covering doesn't conceal your face features. The face should be clearly visible from the top of your head to chin.
Can I wear jewelry? You can wear jewelry or piercings, but it shouldn't cover your face features.
Photo Cropping Tool for Visa
It doesn't matter what country is your next destination - this program has ID formats for almost any type of visa or passport, including US Immigrant Visa, US Non-Immigrant Visa, or DV Lottery photo. If you need to make an image that will definitely meet the official requirements and will be accepted together with your visa application, then this visa photo cropping tool will be a great choice.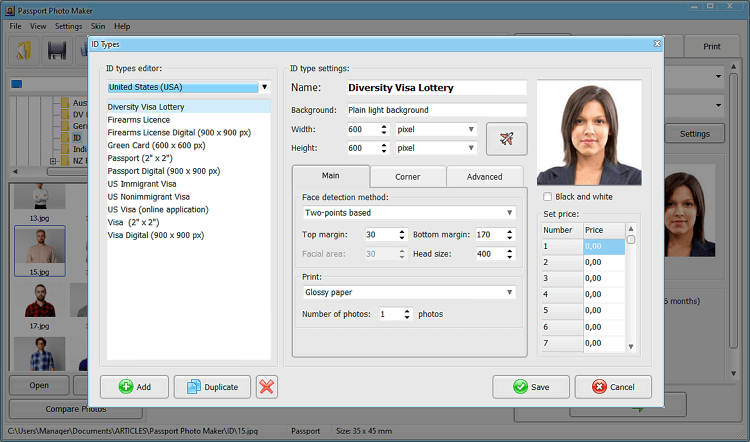 Looking for an easy way to make passport photos?
Crop pictures in a flash with Passport Photo Maker
Download Now
Try it for free today!
Check out more guides on passport and visa photos: