How to Get an Electronic Copy of a Passport Photo
Nowadays the process of getting your first passport or replacing the existing one has become much easier thanks to online application. Although this kind of document is issued in hard copy and has not turned fully digital, you can submit an electronic copy of passport photo right from your home computer. It's a great time-saving option since a hard copy will be delivered to your door. That way you don't have to worry about getting special photo paper or cutting it down to the 2x2 inches required for passport photos. Keep on reading this guide and learn how to get a set of passport photos that comply with the U.S. Department of State guidelines.
Digital Image Requirements
Before you prepare your camera and set proper lighting check out these electronic passport photo requirements for the US passport photo:
The image must have a square aspect ratio (from 600 x 600 pixels to 1200 x 1200 pixels)
The electronic passport size photo must be less than or equal to 240 kB
The picture must be in color (24 bits per pixel)
The image must be in JPG file format
The background must be plain white or off-white, and the picture must be properly exposed to depict your skin tone accurately
Your face must measure between 1 and 1 3/8 inches from top of head to bottom of chin
You must look directly into the camera with your full face in view and a neutral expression. Don't submit portrait-like photos with artistic posing
No hats, head coverings, eyeglasses, headbands, headphones are accepted, unless you can prove they're for religious purposes or a medical condition
Try to avoid wearing white or black, but choose a solid colored shirt that will stand out
No hair, glasses or headgear should cover or create shadows on your face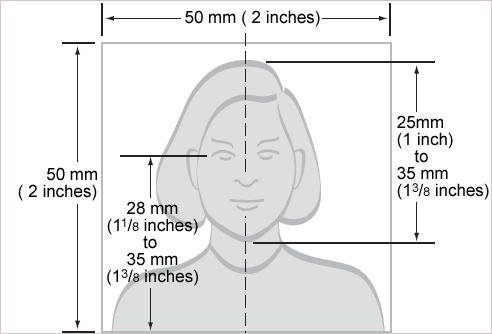 Where to Get Digital Passport Photo
1. Drugstores and pharmacies
Walgreens, Rite-Aid and CVS offer passport photo printing services. Prices across different locations may vary but a set of two passport photos will cost between $9 to $12. Despite quite high prices drugstores are convenient as they can usually take the photos immediately and have them ready within a few hours.
2. Retail stores
Costco, Sam's Club and WalMart stores offer rates as low as $4.99 for two passport photos, and are likely to be the cheapest place for getting professional passport pictures. Some stores even offer an online service on their website where you can upload and create your own passport photo electronically and have them delivered.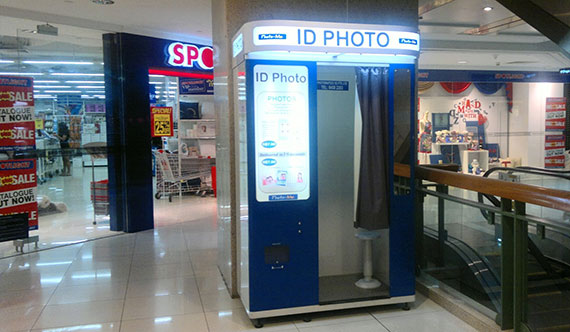 3. Post offices
Many post offices accept and review passport applications and also offer passport photo services. This generally requires an appointment be made in advance and the photos will cost about $15.00. What's more, offices generally work only with US passport photos.
4. Your home computer
Who says you can't do everything yourself? You will just need a little bit of patience to take proper photos and convenient software to edit them. For example, a life-long license for Passport Photo Maker will cost you $39.00. If there're four or five people in your family, the price for two ID photos for each of them will range from $7.8 to $9.75. And the best thing is, all the future photos for visa or other documents will be absolutely free.
Edit Electronic Passport Photo With Our Tool
For the best prices, you should consider taking your own electronic passport photo rather than searching for a booth kiosk in local stores. As a rule, there is no requirement that your photos should be taken by a professional, they just need to meet the specified requirements for that particular passport. All you need is a decent camera, a plain background, a friend to take a picture of you and powerful software to properly edit your photo.
Passport Photo Maker is a convenient program that will help you prepare pictures for all kinds of official documents - passport, visa, driver's license, student's card, and much more. This electronic passport photo tool is equipped with an up-to-date database of ID photo templates. Choose your country and the program will automatically crop your image in accordance with the latest photo requirements. Don't worry that the software will cut away a vital part of your photo. Thanks to smart face detection, it marks the top of the head, eyes and chin leaving enough space above the head and on each side.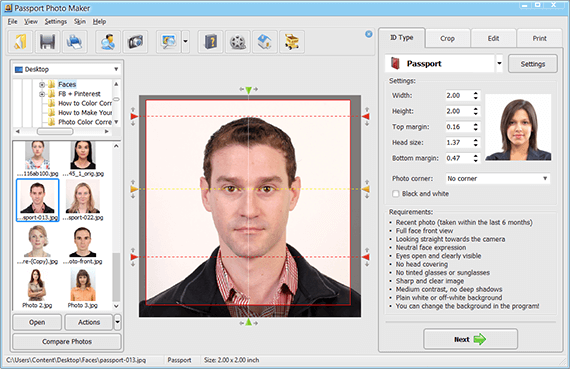 After cropping the photo switch to the Edit tab and make your photo look like it was taken by a professional. If the background you were shot against comes out too dark or of an inappropriate hue, change its color in one click. Replace your clothes to achieve a more official look. Tweak the color balance to make sure your skin looks natural. If needed, get rid of shadows on the face and red eyes caused by a camera flash. Save your photo as JPG, submit it online and be ready to get your passport photo on good quality paper.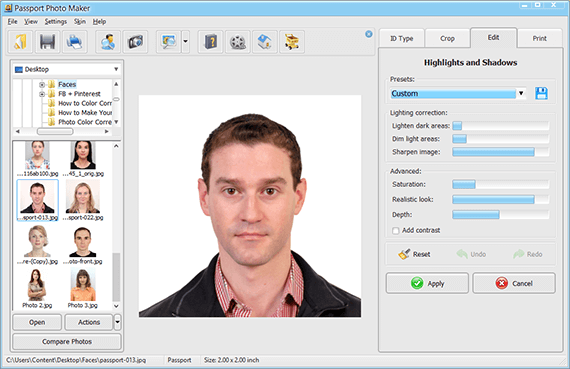 Passport Photo Maker is a highly reputable software used both by businesses and individuals all over the world. Check out a review at Fixthephoto.com to see what photo editing professionals say about it.
Making an electronic passport photo is a great option for online applications. What's more, it's an opportunity to save your money since the only cost is the price you pay for printing the photos. Get started with Passport Photo Maker today and save a lot of time and money that can be spent much wiser!