Compatible with Windows
10, 8, 8.1, 7, Vista, XP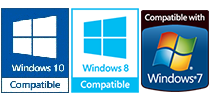 Our Customers Say:
Thank you for this excellent software and all the hard work you put into it! Our photo studio staff mastered the program in a flash, no training was needed. There's plenty of features that are extremely useful for a business like ours, smart layout printing and order statistics among them.
Malcolm Barrows, Salt Lake City, USA
I struggled with some other ID photo makers until I stumbled upon this stunning software. Everything works like a dream, the interface is cute and easy to use. Changing background and clothes are really helpful to make any photo perfect.
Ellie Stonebridge, Bath, Great Britain
How to Print Passport Photos Smartly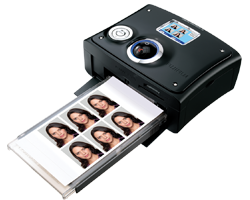 Digital photography has opened many possibilities that were previously the privilege of professionals. For example, today you don't need to visit a studio when you need to make ID photos. Thanks to passport photo software everyone can create and print passport photos for the whole family without leaving home. As for small business owners, now they have access to inexpensive software tools that help them provide the highest quality of prints and save on printing supplies.
No matter if you prepare to make ID photos at home, or seek to provide this service to your photo studio customers, here are some issues to keep in mind when you print passport photos.
The main thing to consider is obviously the type of printer you will be using. When you are choosing a printer for home use, you basically search for an adequate resolution (measured in dpi – dots per inch) and a lower price. When you purchase a printer as a part of photo studio equipment, however, take into account such additional factors as print speed, dry time, types of paper accepted, printhead durability, and the cost of supplies. The most popular types of photo printers these days include high-end inkjets and dye-sublimation photo printers.
Dye-sublimation photo printer, also known as dye-sub, or thermal-dye printer, is chosen by many professionals. It produces perfect photographic prints with true color tones at a high speed; the prints are completely dry and can be handled as soon as they emerge from the machine. Dye-subs are also economical in terms of supplies. The price of such printers ranges from under $100 for mini-lab models to $1000 for high-end machines.
Inkjet printers have come a long way in recent years. Today there are photo quality inkjets with up to 4800 x 1200 dpi color print resolution available. This guarantees perfect output quality when you print passport photos at 300 pixels per inch resolution. Inkjets are good if you need a multi-functional device, not just a photo printer. A high cost-per-page is a drawback, though. Nevertheless, there are ways to save on expensive supplies. Check out this tutorial: How to Print ID Photos Smartly: Working with Print Layouts.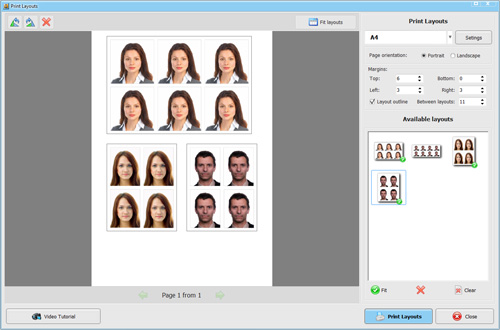 Another critical issue before you print passport photos is monitor calibration. If your monitor reproduces colors and shades correctly, the prints should exactly match what you see on the screen. Otherwise even the most expensive printing equipment won't produce accurate and predictable prints. Passport Photo Maker has a convenient built-in monitor calibration tool. Use it to achieve a perfect monitor-print match for your ID photos.
Create and print high quality ID photos with Passport Photo Maker!
Check Out More of Our Photography Guides: