Compatible with Windows
10, 8, 8.1, 7, Vista, XP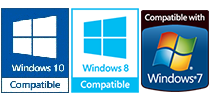 Our Customers Say:
Thank you for this excellent software and all the hard work you put into it! Our photo studio staff mastered the program in a flash, no training was needed. There's plenty of features that are extremely useful for a business like ours, smart layout printing and order statistics among them.
Malcolm Barrows, Salt Lake City, USA
I struggled with some other ID photo makers until I stumbled upon this stunning software. Everything works like a dream, the interface is cute and easy to use. Changing background and clothes are really helpful to make any photo perfect.
Ellie Stonebridge, Bath, Great Britain
Video Tutorial for Passport Photo Maker
This series of video lessons will give you a complete overview of Passport Photo Maker. The videos cover all the steps of working with the software, and aim to help you master all its features.
Photo Business - Useful Tips for a Startup
Planning to start your own photography business? There are lots of things to consider, from the camera model and the studio location to the range of services you'll be offering and the promotion techniques. We've collected the most useful tips for you below, so you can be sure that all the vital stuff is taken care of.
ID Photography Tips & Guidelines
Not sure how to take a quality shot, which printer to choose, or where to find the requirements for a certain ID type? Here, you will find the answers to some frequently asked questions in the field of ID photography.
Essential Tips on Travel Documents
Planning a trip or vacation abroad? In this section, you'll find helpful information on the essential documents required for international travel, including visa photo requirements.
Create and print high quality ID photos with Passport Photo Maker!