How to Make a 2x2 Photo - Complete Guide
Where to start? First, you need reliable software. With Passport Photo Maker, you won't have to spend a lot of money on professional photographer services - instead, you'll make a perfect ID picture yourself in a matter of minutes. Second, you need to prepare your photo according to the official requirements. Keep reading this guide to learn more about the image specifications and discover the easy-to-follow steps for making a perfect photo.
2x2 Photo Template & Requirements
When making their own ID photo, people often ask how to pose in a picture. Or how many pixels is a 2x2 photo? Check out the official requirements for a 2x2 inches photo (suitable for both a passport and visa):
Your photo must be in color and printed on high quality paper.
Submit only a recent picture (taken within the last 6 months) to reflect your current appearance.
Plain white or white-off background, without any pattern or objects behind.
Full face is directed to the camera, only a neutral facial expression is acceptable.
Eyes should be open and clearly visible. There must not be any shadows or hair across the face.
No head coverings like hats or veils, no headphones and similar objects on your head (except worn for religious reasons).
You can't wear glasses (even if they don't have tinted lenses).
Pictures must not be digitally altered or retouched to change the appearance.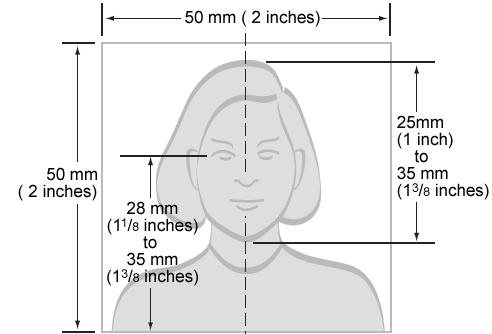 If you prefer visual guides over texts and lists, then check out the examples below. They illustrate most of the requirements: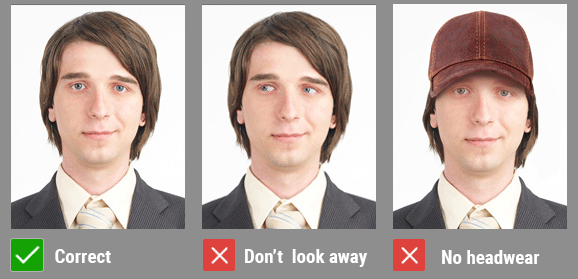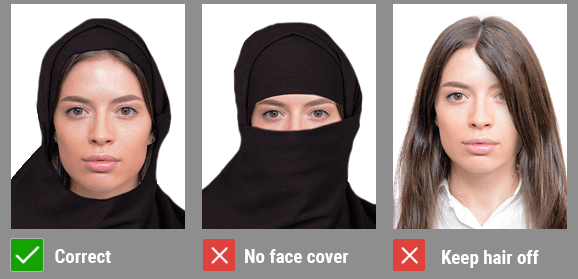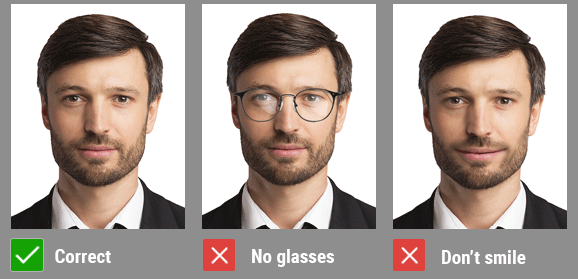 How to Make a Photo 2x2
Studied all the requirements and ready to take some action? Follow the instructions below and prepare your 2x2 inches photo in less than 5 minutes.
Step 1. Choose your 2x2 photo template
First of all, download Passport Photo Maker from the official website. When you've launched the software stay on the ID Type tab to browse through a collection of built-in photo templates. Let's pick a suitable template of the required size. In this case, we'll make a 2x2 passport photo so click US Passport. On the right you can see that the program uses the proper width and height settings.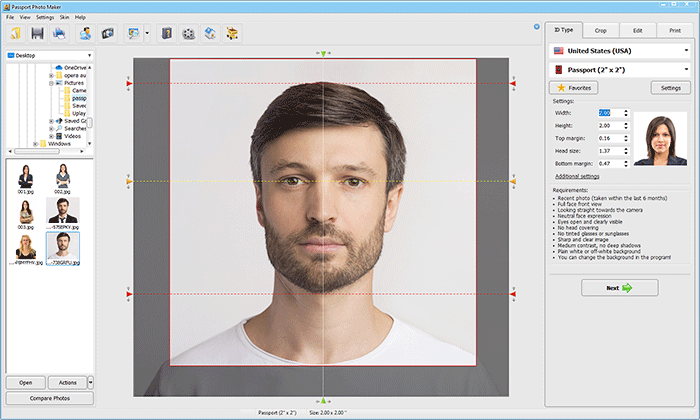 Step 2. Crop your picture to 2x2 inches
How to crop a photo 2x2 inches? The passport picture must measure exactly 2x2 inches, with the head size from 1 inch and 1 3/8 inches. The eyes should be placed between 1 1/8 inches to 1 3/8 inches from the photo bottom. The app uses smart face detection technology so you don't have to worry about the right size of your head in the photo. If the face recognition module hasn't worked properly, move the red and yellow lines to put the whole face into focus or manually change its proportion.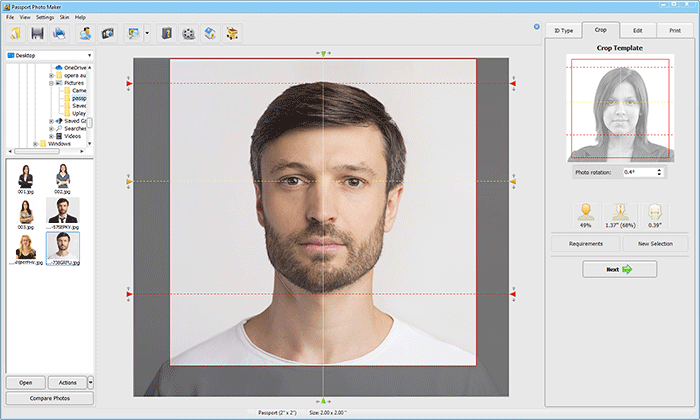 Step 3. Change the photo background
Switch to the Edit tab to make your picture look as if it was taken by a professional photographer. Change the background color to perfect white without affecting the face. Adjust highlights and shadows to get a clear and sharp image. Replace clothes to something more official and formal if you're wearing a simple T-shirt in the picture. However, be careful with too much editing. After all the tweaking your ID photo must still look natural.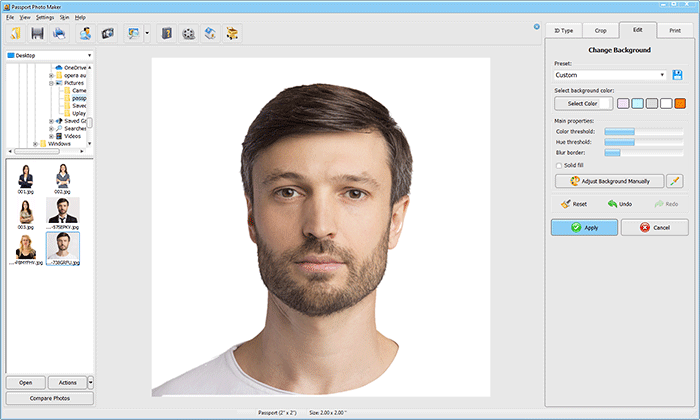 Step 4. Print your 2x2 photo at home
Now it's high time to print your 2x2 inches photo. Move to the Print tab to pick the paper size and set the desired number of copies. You can also add crop marks to easier cut out your printed photos. To get two US passport photos, pick 4x6 inches paper and set the margins to fit all the photos on the page. Hit the Print button or save them as JPEG and add to your online application.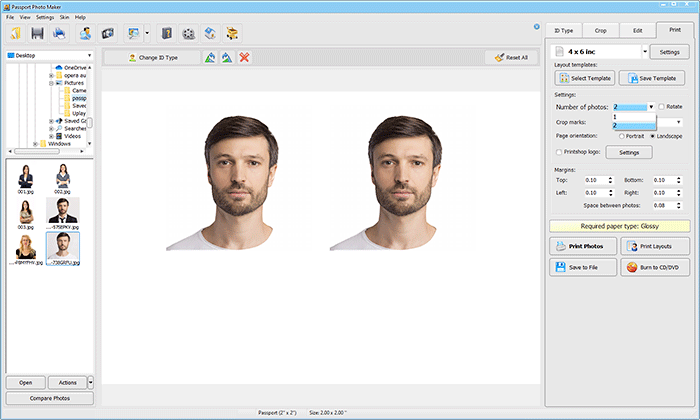 Want a more detailed guide on how to make a 2x2 photo? Watch the video lesson below and repeat all the actions to get the best result:
Still not sure that Passport Photo Maker is the right tool for your task? Check out a review for it at Fixthephoto.com - it covers all the pros and cons and should help you decide.
Need to make other types of ID photos? With Passport Photo Maker software, you can easily prepare proper pictures for all of your family. The program comes with dozens of ID photo templates for any purpose and occasion, including baby passport photos, DV Lottery pictures, Schengen visa photos, driver's licence images and many other formats. Get started with this ID photo editor and save your money spent on photo services!