Compatible with Windows
10, 8, 8.1, 7, Vista, XP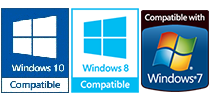 Our Customers Say:
Thank you for this excellent software and all the hard work you put into it! Our photo studio staff mastered the program in a flash, no training was needed. There's plenty of features that are extremely useful for a business like ours, smart layout printing and order statistics among them.
Malcolm Barrows, Salt Lake City, USA
I struggled with some other ID photo makers until I stumbled upon this stunning software. Everything works like a dream, the interface is cute and easy to use. Changing background and clothes are really helpful to make any photo perfect.
Ellie Stonebridge, Bath, Great Britain
Download Passport Photo Maker!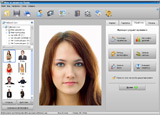 Download Passport Photo Maker - professional ID photo software.
Version: 9.0
Release date: February 19, 2020
Interface languages: English, French, Italian, Spanish, Portuguese, Dutch, Czech
Compatible with: Windows 10, 8, 7, Vista, XP

This ID photo software has a stylish user-friendly interface, it is convenient and quick to master. Advanced image processing modules, a wide range of features and high quality print output make Passport Photo Maker a unique ID photo making software tool, great both for home users and for professional photo studios.
Convenient and Intuitive
Passport Photo Maker is intuitive and easy to work with, so even a non-tech savvy user will get comfortable with the program in a couple of minutes. Basically, there are only three simple steps to professional ID photos. First add a photo to the working area. Then select the document type from the software database. The photo is cropped automatically to match the dimensions specified. Adjust the image quality if needed, and the photo is ready for printing or online submission. Download Passport Photo Maker and see it in action!
Professional Photo Editing
The integrated ID types database stores the dimensions and requirements for ID photos of different countries: the USA, Canada, Australia, Great Britain, France, Germany, Spain, etc. There are specifications for passport, visa, driving license, Green Card lottery, and other common document types. The database is regularly updated, which means that photos prepared with the software are guaranteed to be accepted by the officials.
Another important section is the built-in photo editor with all the necessary features:
improve brightness, contrast, saturation, and colors
change the photo background with a few mouse clicks
fix highlights and shadows and adjust levels
remove red eyes and skin imperfections
replace clothes right on the photo
Print Passport Photos Smartly
The print module inside Passport Photo Maker allows the user to save precious time and print supplies. The program will automatically place the necessary number of photos on the selected paper size in the most efficient way. Photo business owners can add their logo and address. It is also possible to create reusable print layout templates to speed up printing photos for customers.
The free demo version is available to experience all the benefits of the software before making the purchase decision, so we invite you to download Passport Photo Maker and try it out immediately.
Have a Question?
Frequently Asked Questions
Contact Support
Create and print high quality ID photos with Passport Photo Maker!