Compatible with Windows
10, 8, 8.1, 7, Vista, XP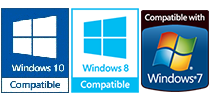 Our Customers Say:
Thank you for this excellent software and all the hard work you put into it! Our photo studio staff mastered the program in a flash, no training was needed. There's plenty of features that are extremely useful for a business like ours, smart layout printing and order statistics among them.
Malcolm Barrows, Salt Lake City, USA
I struggled with some other ID photo makers until I stumbled upon this stunning software. Everything works like a dream, the interface is cute and easy to use. Changing background and clothes are really helpful to make any photo perfect.
Ellie Stonebridge, Bath, Great Britain
ID Types in Passport Photo Maker
The current version of Passport Photo Maker supports the following ID types:
Schengen Visa
Visa Austria
Visa Belgium
Visa Brazil
Visa Bulgaria
Visa Canada
Chinese Visa
Visa Czech Republik
Visa Estonia
Visa Finland
Visa France
Visa Germany
Visa Greece
Visa Latvia
Visa Mexico
Visa UAE
Visa UK
Visa USA
USA
Passport
Passport (online application)
DV-2013 Lottery
Immigrant Visa
Nonimmigrant Visa
Visa (online application)
Canada
Passport
Citizenship
Permanent Resident Card
Driving Licence
Firearms Licence
Personnel Screening
United Kingdom
Passport
Baby Passport
Driving License
Construction Skills Register
Australia
Passport
Baby Passport
Bus & Taxi Licence
France
Passeport
Passeport bébé
Deutschland
Reisepass
Baby-Reisepass (unter 11)
Italia
Passaporto
Schengen Visto
España
Pasaporte
Tarjeta de identificación
Schengen Visado
Brasil
Passaporte
Schengen Visto
Carteira de identidade
Crachá de identidade da empresa
Cartão de identidade do clube social
Passport Photo Maker has an integrated database of ID types for different countries to comply with the latest passport photo requirements. Each ID type has presets for dimensions and head size, as well as a list of recommendations on background color and more. The database is constantly being updated. You can also add a new ID type, or submit it to be included in the program update.
Create and print high quality ID photos with Passport Photo Maker!