Compatible with Windows
10, 8, 8.1, 7, Vista, XP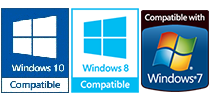 Our Customers Say:
Thank you for this excellent software and all the hard work you put into it! Our photo studio staff mastered the program in a flash, no training was needed. There's plenty of features that are extremely useful for a business like ours, smart layout printing and order statistics among them.
Malcolm Barrows, Salt Lake City, USA
I struggled with some other ID photo makers until I stumbled upon this stunning software. Everything works like a dream, the interface is cute and easy to use. Changing background and clothes are really helpful to make any photo perfect.
Ellie Stonebridge, Bath, Great Britain
How to Retouch Photos
This video demonstrates how to retouch photos in Passport Photo Maker.
Often people don't like their looks in ID pictures and retouching is most demanded in photo editing these days. The Passport Photo Maker software has a large set of tools to make the person look perfect yet not plastic.
People mostly want to delete all kinds of skin imperfections. Use the Blur Tool to retouch wrinkles and as a result the skin will look fresh and smooth. The Clone Stamp removes skin blemishes such as moles, birthmarks, pimples and other flaws. Red eyes in pictures are not a problem anymore – just select the Red Eye Removal and sweep them off with one mouse click. In case you want to whiten the teeth in an ID photo use the Dodge Tool. Also, our developers haven't forgotten to add the standard tools to adjust contrast and sharpness.
Take photos for a passport, driving licence, visa, corporate or student card and make them flawless with Passport Photo Maker in one minute!.
Create and print high quality ID photos with Passport Photo Maker!