4x4 Photo Size (4х4 cm)
Use tools and templates of Passport Photo Maker to get a professional photo in 3 seconds! Create photos for passports, visas, and other IDs from your images at home.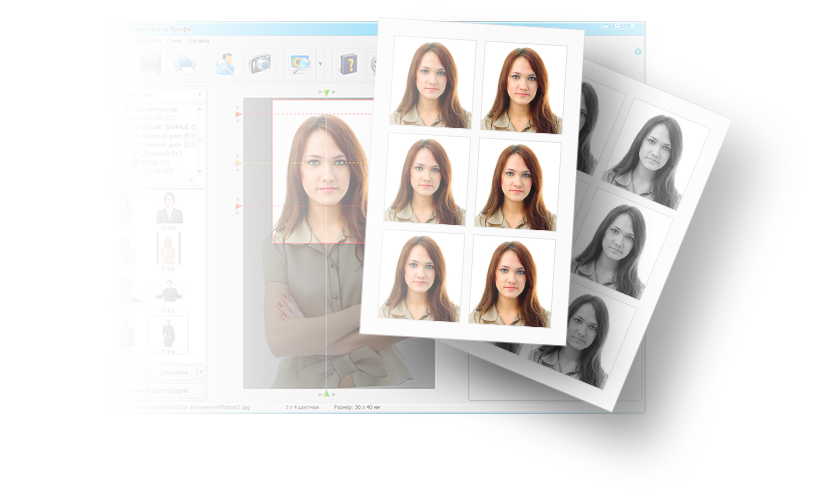 Having 4 by 4 square pictures for credentials prepared in advance can be helpful when you urgently need to make a new ID, like an Argentinian visa. But what if you have no pictures of these standard photo sizes and there is no photo studio available around? You can actually prepare your photos at home! All you need is to know the official requirements and have a handy ID photo maker at hand.
We will provide you with both. Once you are through with this guide, you will know how big is a 4x4 photo and how to edit your images into perfectly acceptable official pictures for credentials at home.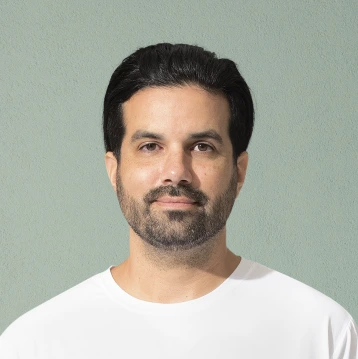 How Big is a 4x4 Picture
Let's go over the possible sizes of digital and printed photos.
4x4 Centimeters Photo Equivalents
4x4 stands for 4 centimeters by 4 centimeters. This proportion can also be written as:
40 × 40 millimeters
1.57 × 1.57 inches
Dimensions of the Digital 4 by 4 cm Photo
When it comes to how small the digital images are, the actual size is not that obvious. Among document requirements, you will also find a dpi (dots per inch) value since the dimensions of digital images are measured in pixels. Here are 4x4 photo size examples relative to dpi:
942 × 1479 for 600 dpi
471 × 739 for 300 dpi
157 × 246 for 100 dpi
Requirements for ID Photos
4x4 square photos are required for visas to Argentina, Kongo, Cameroon, and some other countries. It's also a standard photo size for passports in a number of countries. Like with any official photo, there are specific requirements for a 4x4 pictures size. Let's take a look at all the specifications:
Size: 40 mm × 40 mm
Resolution: 600 dpi
Image composition: Head height – 70 %
From photo top to the hair top – 8 %
Online submission: Yes
Printable?:
Background color: White, gray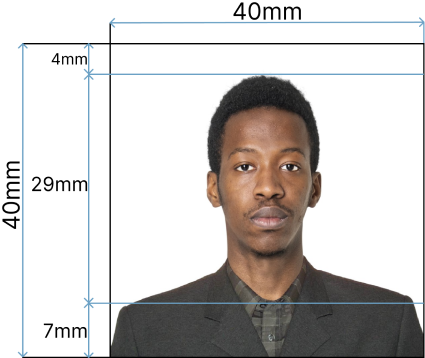 The amount of space your face should occupy in the photo is important. This proportion may vary depending on the country and the ID type. Fortunately, you don't have to measure it with a ruler. You can use specialized software instead, such as Passport Photo Maker. This program has templates for IDs of over 130 countries, so you are likely to find the one you need. In other cases, you can use an included cropping tool - to make your photo of any needed proportion, fix the head tilt, crop a photo frame away, and more.
No matter what size is a 4x4 photo, the rule of thumb for a background is that it must be uniform. In most cases, it should be white or gray (coded as #ffffffff and #fdfdfd, respectively). There can be exceptions. For example, a red (#fa1612) background is required for an Indonesian visa. If the backdrop of your portrait photo does not fit some requirements, e.g. has the wrong color or includes foreign objects – that is no problem. Passport Photo Maker can help you replace the original backdrop with the one of the demanded color.
If you find your looks on the photo somewhat unpresentable, Passport Photo Maker will help fix that. In its built-in enhancement suite you can change your outfit, erase the red-eye effect, smooth out skin imperfections, and adjust colors to make your photo more appropriate for an official document or your profile on Instagram.
Passport Photo Maker has an up-to-date database of ID requirements for over 130 contries. We monitor the changing guidelines and guarantee that the pictures you make will be accepted.
Download Passport Photo Maker to create 4х4 photos at home!
Make officially acceptable ID photos
Automatize photo editing with templates
Save on printing costs with intelligent printing
Fix your clothing and background
Tweak the tilt, contrast, and other parameters
FAQ About 4x4 Photos
How big is a 4x4 photo in cm? 4 by 4 picture size may vary depending on the unit of measurement. If the photo is measured in inches, then it is 10 cm by 10 cm. It is not tiny at all but might look good in a frame or on an Insta profile.
How do I print a 4x4 photo from my iPhone? To make square prints from iPhone photos, import your pictures to your PC and open them one by one in Passport Photo Maker. Then choose a 4x4 passport photo template or crop the picture yourself. You can print the image at home using the in-program smart printing suite or export it to print elsewhere.
What size is a 4x4 picture in pixels? 4x4 picture size depends on the DPI value. DPI stands for "Dots Per Inch," and it is an important parameter since the translation of pixels into measuring units is not obvious. Here's a photo size comparison:

For 600 dpi – of 942 × 1479 (high resolution)
For 300 dpi – 471 × 739 (medium)
For 100 dpi – 157 × 246 (low)

How do I make a picture 4x4 in Word? Word is a text processor, but you can resize a 5x5 (or any other) picture with it. Open a regular image in the program, click on it to select, go to the Format toolbar, and input height and width. Then export a 4x4 pic.