Compatible with Windows
10, 8, 8.1, 7, Vista, XP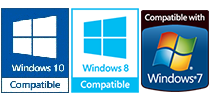 Our Customers Say:
Thank you for this excellent software and all the hard work you put into it! Our photo studio staff mastered the program in a flash, no training was needed. There's plenty of features that are extremely useful for a business like ours, smart layout printing and order statistics among them.
Malcolm Barrows, Salt Lake City, USA
I struggled with some other ID photo makers until I stumbled upon this stunning software. Everything works like a dream, the interface is cute and easy to use. Changing background and clothes are really helpful to make any photo perfect.
Ellie Stonebridge, Bath, Great Britain
How to Choose the Best Photo for ID
Two features of an ID photo are essential: the compliance with the official requirements and good quality. Passport Photo Maker has an extensive pack of options and one of them allows you to choose the best photo for ID. You don't have to use pictures taken by a professional photographer. Just open the folder in your PC and simply click the Compare button. Then pick 6 or fewer images made with a digital camera or your smartphone and drag and drop them to the working pane of the program. Estimate each photo quality by zooming it in.
Have you chosen the best shot yet? Now you can make it even better. A generous number of editing tools will help you improve the quality. Correct the color balance, fix the sharpness and change the saturation level. This software is so user-friendly that you don't have to have any special skills to work with it. Create professional quality ID photos at home for the whole family in no time and without undue efforts.
The video tutorial above demonstrates how easily and fast you can compare, edit and print photos for a passport, visa, driving licence and other official documents with Passport Photo Maker.
Create and print high quality ID photos with Passport Photo Maker!