Compatible with Windows
10, 8, 8.1, 7, Vista, XP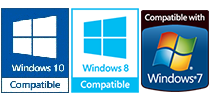 Our Customers Say:
Thank you for this excellent software and all the hard work you put into it! Our photo studio staff mastered the program in a flash, no training was needed. There's plenty of features that are extremely useful for a business like ours, smart layout printing and order statistics among them.
Malcolm Barrows, Salt Lake City, USA
I struggled with some other ID photo makers until I stumbled upon this stunning software. Everything works like a dream, the interface is cute and easy to use. Changing background and clothes are really helpful to make any photo perfect.
Ellie Stonebridge, Bath, Great Britain
How to Print ID Photos Smartly: Working with Print Layouts
In this tutorial you will learn how to print ID photos for official documents and save your time, paper and money with Passport Photo Maker.
The Print Layouts option allows you to work with different print layouts smartly. Create as many ID photos as you need, add and save the print layouts and the program will fit them on a page in the most effective way. Yet, feel free to arrange the layouts as you like. It's easy, just drag and drop them around with your mouse and perhaps you will place and print ID photos even more economically. However, some smart inexpensive photo editor is not the only way to save. Find out what printer suits you the most in this guide: How to Print Passport Photos.
Passport Photo Maker is a great tool to create and print ID photos smartly both for photo studio clients and for your family with no need to leave home.
Create and print high quality ID photos with Passport Photo Maker!