Powerful Visa Photo Tool
Need a photo for visa?
Create it in mere minutes with Passport Photo Maker!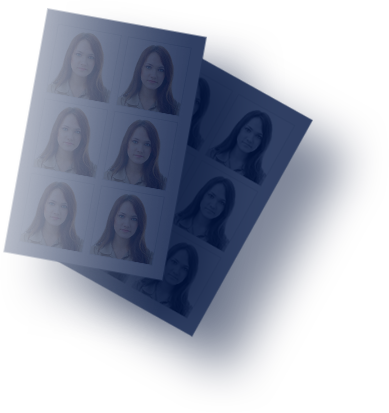 Visa Photo Editor: 100% Approvable Image in a Minute
If you travel a lot, you know that a lot of countries require a visa to be allowed in. Every country has different specs for a visa that are applied to the photo as well. They can be really frustrating and costly to follow. How to make an image which will be accepted by the officials, while still saving lots of money and effort? Below you'll find all the basic rules on how to create a decent picture using a U.S. visa photo tool and a premade template.
What Visa Photo Maker to Choose?
You could try and make a visa size photo using some online generator or even Paint software. But not every image editor is suitable for this kind of task since the toolkit can be limited or made for pure retouch. You'll have to double-check the sizes while cropping, work with cumbersome selections, etc. The whole process of preparing a photo will get much easier if you use special software. You don't have to google for the program - check out Passport Photo Maker. It will allow you to prepare a perfect image for a visa in a few steps:

Passport Photo Maker is very easy to use, so you don't have to be a professional photographer to work in it. Just take your picture, follow 4 simple steps and your perfect visa photo is ready. Want to try the software for free? Download Passport Photo Maker using the button below:
Passport Photo Maker: a Key to a Perfect Visa Photo?
Passport Photo Maker offers you one of the largest databases: there are visa formats for 130+ countries. You will find the image specs for larger countries like Canada, USA, India, and Brazil; as well as passport image specs for Singapore, Japan, France, and other smaller states. Using Passport Photo Maker, you can make photos for ID cards, badges, driving license and digital applications as well. Regular updates ensure that your photos will meet the official requirements, so you won't need to google all the info beforehand.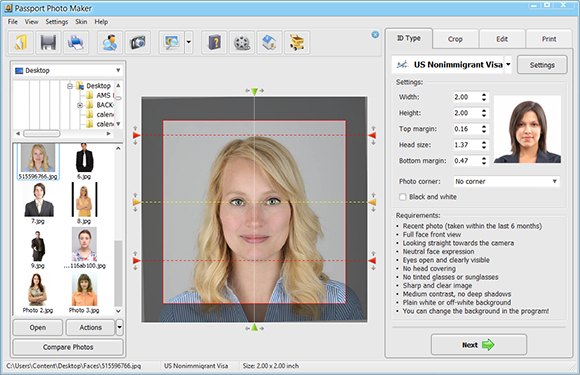 With this visa photo editor, you will be able to quickly yet efficiently prepare your pictures. You can crop images manually or use automatic face detection to let the software do all the job for you. Aside from simple cropping, you can enhance a photo in just a few clicks: perform a basic retouch, remove red eyes, change clothes using 100+ samples for men and women, adjust lighting, etc.
Many formats, for example, the new Chinese visa photo, require a plain white or grey background. Now you can take photos for these documents at home, then easily change a background to any color in Passport Photo Maker. When editing is done, you can print the required number of photos or save the soft copies.
Here is a short list of features you can use in Passport Photo Maker:
The up-to-date database of popular ID types, such as Schengen visa photo, Green Card, 2x2 inches photo, etc.
Photo size presets for the USA, Canada, UK, Australia, France, etc.
Convenient and easy-to-use background & clothes replacement tool
Automatic cropper powered with biometric features detection
Built-in image editor for instant photo enhancement
Integrated print templates stating the number of photos, paper type, etc.
Besides having reliable software, you still need to know the official requirements for the pose, clothes style, etc. Since they are usually quite strict and most errors are impossible to fix at the editing stage, check the requirements before taking an actual photo.
What are the Official Visa Photo Requirements?
Aside from the background color and photo size, you need to follow a dozen of other official requirements. Some specs prohibit wearing dark or light clothes, scarves, glasses and what not. Let's see what are the official requirements for a visa photo.
Requirements For Background
Choosing the right visa photo background is crucial for a successful application process. The key requirement is to use a plain colored background. If you take a photo at home, you can stand against a plain white or light grey wall, or hang a creamy sheet to avoid textures and patterns in your photo. You should also make sure there are no odd objects in the frame. Of course, you can later delete them on your computer but it's better to keep any editing to a minimum. If you're taking a visa photo of your children, do not allow any other person into the frame. The background requirements are the same for the photo of a baby or toddler.

Image Quality
Embassies usually set high requirements for image quality. Your photo won't be accepted if it is over- or underexposed, blurred or pixelated. As a rule, a digital visa photo should be in JPEG, equal to or less than 240 kB in file size, and 600x600 pixels in dimension.

To get a photo of high quality, try using a natural light (such as from a window) since it helps to avoid shadows on the face and background. Switch off the flash as it increases the likelihood of red-eye and digital noise. Also, don't apply any filters and try not to change the color or contrast settings of your camera. Otherwise, you will likely get rejected for an unrealistic look of your picture. This is especially vital if you plan an immigration to the US and want to apply for the Diversity Visa Lottery. Its automatic validator simply won't accept your photo and you won't have a chance to participate.
Smiling and Posing
One of the most common and confusing questions is "Can I smile on a visa photo?" A visa photo should help embassy employees to properly identify you, so say an absolute 'no' to toothy smiles or silly expressions. Although a simple and natural smile won't make you unrecognizable, do be careful. While some countries are totally OK with a smile on visa photos, the others, like the USA, don't allow smiling and will most likely reject your application. Another reason to check out the official guidelines beforehand.

Besides a smile, you should also consider your facial expression, head position, gaze direction, the need for glasses, etc. To take a visa photo, make a neutral, preferably non-smiling face expression. Only your head, neck and shoulders will be seen in the photo so keep your shoulders straight and don't tilt your head to any side. Look right into the camera with both of your eyes fully open. Wearing eyeglasses is no longer allowed in new visa photos, so take them off beforehand, otherwise the checker will turn your photo down.
Clothes and Headwear
Before hitting the shutter make sure you've put on casual clothes you wear on a daily basis. For women, it's better to avoid shoulderless tops as in the cropped visa photo their shoulders will look naked. Take off a hat or head covering that obscures the hair or hairline, unless it's worn daily for a religious purpose. Your full face must be visible, and there should not be any shadows cast from the head covering. Headphones, wireless hands-free devices, or similar items are not acceptable in your photo.

Summing It All Up
Now, even with all these restrictions, you can take a visa photo and prepare it in a few minutes all by yourself. You don't need to use limited online converters or complicated photo editors - Passport Photo Maker will do all the job for you. Even if you are a simple home user, you can quickly adjust the photo dimensions with the smart cropping tool. Then remove the background in a click and save as many copies of your visa picture as you need. What's more, purchasing Passport Photo Maker is definitely cheaper than hiring a professional photographer every time your family needs a photo for a visa. Start saving your money and time today - download Passport Photo Maker!
Get started right now with Passport Photo Maker
Make high-quality visa photos for 130+ countries!
Download Now
Compatible with Windows 10, 8, 8.1, 7
Check out more guides on visa photos: