Need a Passport Photo Background Editor?
Fix the picture background color with smart passport photo software. It only takes a couple clicks!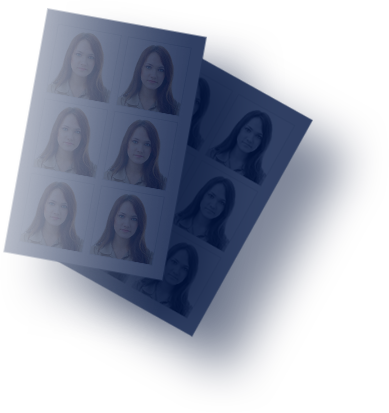 TOP 3 Passport Photo Background Editors You Need to Know
Snapped a perfect passport or visa picture, cropped it according to all the sizes but noticed that the background color is wrong? So does it mean that you should waste your time and money on preparing another picture? No way! In this article, we'll tell you about 3 passport photo background editors that will help you fix the backdrop in no time. Let's have a look at them!
Passport Photo Maker
Passport Photo Maker's name speaks for itself. This is smart software for creating your own ID photos right at home. It is equipped with a plethora of easy-to-use templates for passport, visa, driving license and other credentials. With just a single click, you can crop your photo according to the official requirements, change your clothing from casual to formal, and yes - fix the passport photo background color. Let's see how it's done.
Try Passport Photo Maker for free to create a 100% acceptable ID photo.
Step 1. Open Your Photo with Passport Photo Maker
First, download this program by clicking the button above, then install it. Now, take a picture of yourself, whether with a camera or with your cell phone. Next, upload it to your PC, and open it with Passport Photo Maker. You can also use the software to snap a picture with your webcam.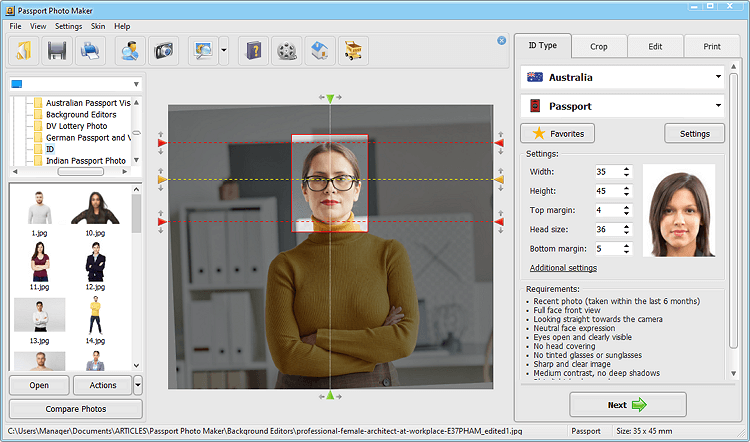 Step 2. Pick the ID Template and Crop Your Pic
Now, choose the country you need and pick the required document type. Once you've done it, the software will instantly crop your picture according to the up-to-date requirements. All you'll have to do it to click Next.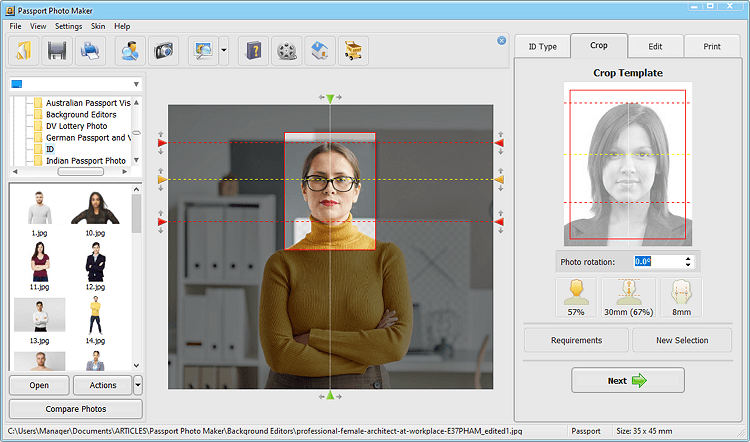 Step 3. Select the Right Background Color
Now, choose the Change Background option. Here, you can select a new background color with a single mouse click. White, gray, beige, pale blue - go with whatever color your ID photo requires. If your picture has a complex background, delete it, then pick the right color.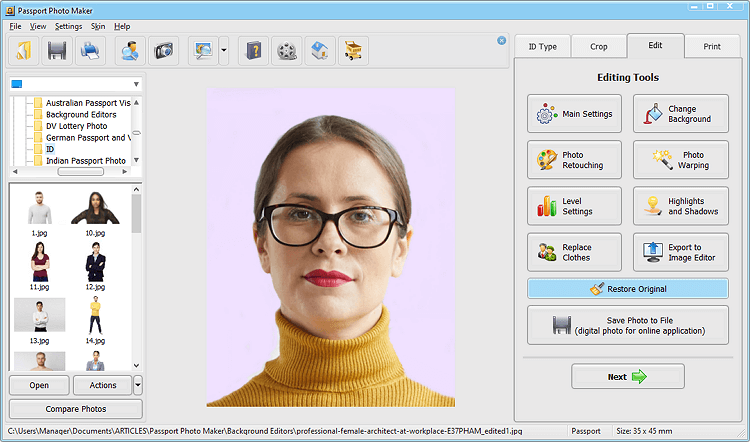 Step 4. Print Your Photo with a Proper Background
It's time to print your photo. Use the convenient printing module to choose the paper size, pick the print template, and adjust the margins for zero-waste printing. Applying online? Then save your digital photo as JPEG.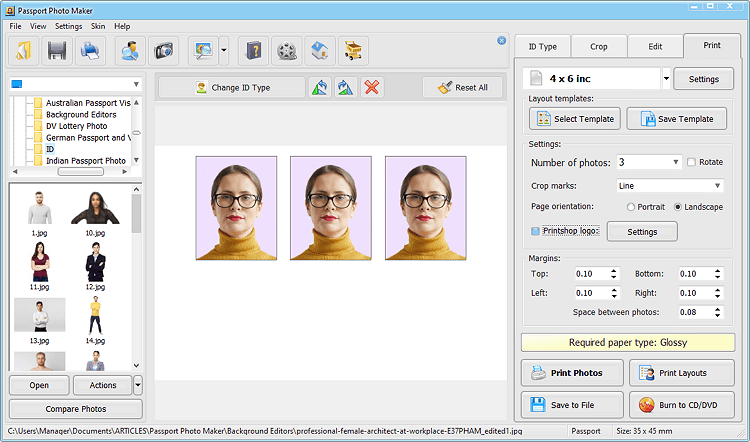 Passport-Photo.Online
Passport-photo.online is a convenient online tool for making ID photos. It is filled to the brim with ID photo templates and relies on a content-aware AI to process pictures. However smart and useful this application is, you'll need to pay to download your cropped and processed ID photo from the site. Let's look at the simple way you can fix the photo background with it.
Step 1. Pick the Document Type
Go to passport-photo.online. Click the Document type button and pick the ID you need. Let's go with the US passport.
Step 2. Upload Your Photo
Next, open your photo in this ID photo maker. It doesn't matter what background your picture has, because this service can fix even any backdrop.
Step 3. Save Your Photo
In three seconds, you'll have a properly cropped pic with the right US passport photo background color.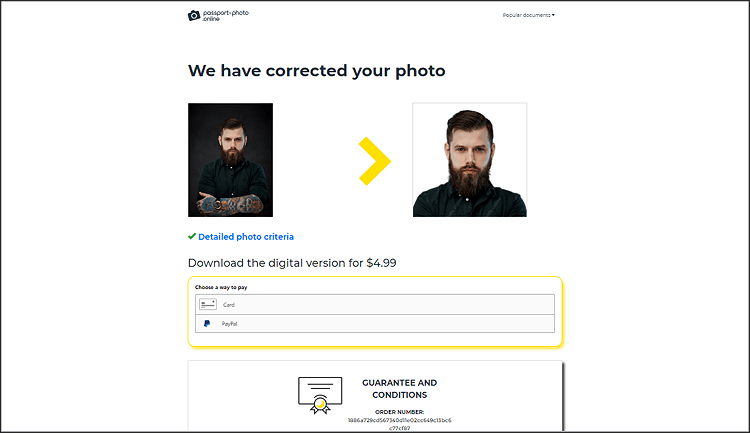 123Passport Photo
123Passport Photo is yet another online service that allows you to create ID pics on your own. Unlike its closest competitor, passport-photo.online, this service mostly resorts to passport or visa photos and requires manual face selection. Let's see how this background color changer operates.
Step 1. Choose the Country and the ID
Visit 123passportphoto.com and pick the country and the document type. There are also shortcuts for US, UK, and Australian passports.
Step 2. Open Your Pic
Now, upload your photo to the service. Make sure the markers frame your face properly.
Step 3. Save Your Pic
The application will automatically crop your picture and come up with the background color required by the standards. You can now pay to download the pics.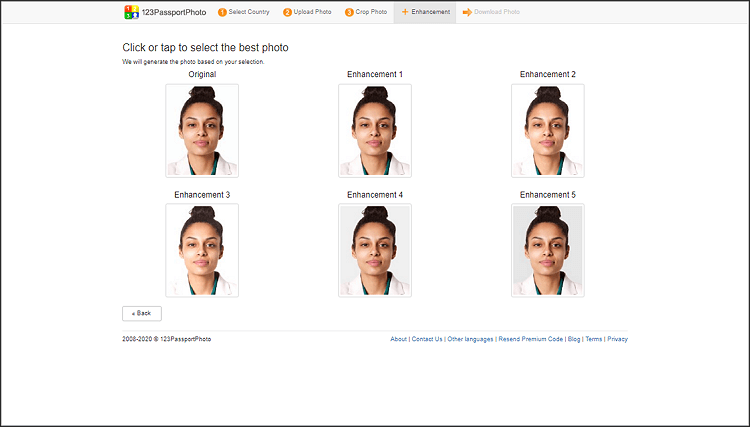 Color Me This, Color Me That: Conclusion
As you can see, there are plenty of tools that can help you set the right color background for your ID photos. Even though automated online services seem like the way to go, consider this - they charge you for the job you had no control over. So if you need to make sure you have the proper backdrop color for your credentials picture, go with Passport Photo Maker. This convenient software not only has ID templates for 130+ countries, but also allows you to swap your photo backdrop to any color, change your clothes and much more. Give it a try to see for yourself!
Edit your pic's background color in a few clicks.
Get started with Passport Photo Maker today!
Download Now
For Windows 10, 8, 7, XP
Check out more guides on passport & visa photos: