US Passport Picture Requirements – 2023
Applying for the US passport make sure you follow the American passport photo requirements carefully. Your photo must be the right dimensions, and the officials should clearly recognize you when they look at your passport. Spend a few minutes reading how to take a passport photo – this way you can avoid a delay in processing your passport application caused by the picture being rejected.
If you have enough time, it's better to get your passport picture taken in a professional photo studio. However, it is also possible to do it at home, which is especially helpful if you need to prepare a baby passport photo. Keep in mind that you'll need convenient software for making passport photos to get your photograph ready for printing in a couple of simple steps.
Keep reading this guide and you'll learn all the latest requirements for the US passport photo and get familiar with an easy-to-use US passport photo maker.
Key Specs for US Passport Photo
Below we've gathered essential specs that will help you prepare the necessary photo. You can find more information on United States passport picture requirements on the official website of the US embassy.
Check out US passport photo specifications

There're 2 pictures needed for US passport per person or per application
Provide a recent photo (no older than 6 months) reflecting your current appearance
No selfies or group pictures are acceptable
The photo must be taken against plain white or white-off background, without any pattern or objects behind you
Your photo must be in color and not in black or white
Rules for USA passport photos prohibit digitally altering or retouching your real-life appearance
Resolution, Print Size, and Quality of US Passport Photos
Remember that your digital passport photo for online application must have a resolution of 300 pixels per inch. If you plan to submit a printed photo rather than a digitized copy, you should take into account some additional American passport photo specifications.
US passport photo dimensions should be exactly 2x2 inches (51 x 51 mm), with the head measuring from 1 inch to 1 3/8 inches (25 mm - 35 mm), and the eyes placed between 1 1/8 inches to 1 3/8 inches (28 mm – 35 mm) from the bottom of the photo
Your passport photo must be printed on either matte or glossy quality photo paper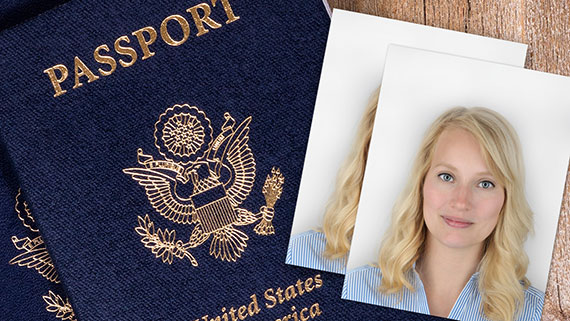 Pose, Expression and Clothes Do's and Don'ts
Choosing a proper US passport photo size is half the battle. For a start, it is much more important to prepare for the shooting - put on nice clothes, tidy up your hair, stand in the right position and make sure you don't showcase on the photo something you really shouldn't. This list will help you get ready for your passport photo:
You must directly face the camera so it takes a full-face front view
A neutral facial expression is a standard for today's biometric passport photo requirements. However, you can use a soft, natural smile if preferred
Your eyes should be open and clearly visible. There must not be any shadows or hair across the face
You should wear normal everyday clothes, not a uniform, camouflage or national costume, except for religious clothing worn on a daily basis
Do not wear a hat or headgear that obscures the hair or hairline. If you wear a head covering for religious reasons, you may leave it on, but it must not obscure any parts of your face
Starting November 1, 2016, glasses are no longer allowed in passport photos (regardless of a medical certificate issued by your doctor)
If you normally have a beard, keep it. If not, don't grow one for the picture
You can wear jewelry and keep on your facial piercings but make sure they do not hide your face
Permanent tattoos are also acceptable for passport purposes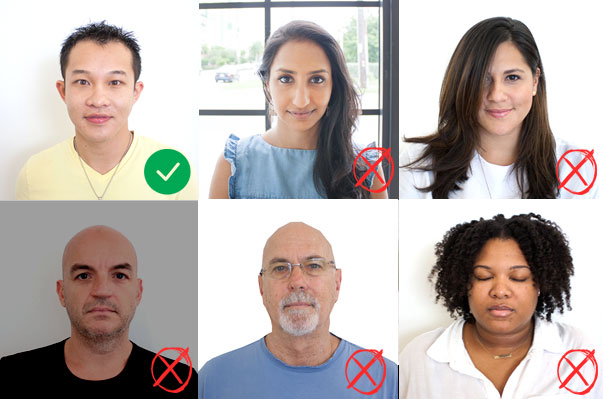 All in all, there are no restrictions on the clothing you might wear in your passport photo, but it's better to opt for a more traditional attire instead of a trendy one. Don't go for a stylish haircut or fashionable sweatshirt, focus on more appropriate clothes and make sure they meet the official passport photo requirements of the United States.
US Passport Baby Photo Requirements
If you plan to travel with your little children, you'll need to make them separate passports in order to go abroad. An infant's pose and expression are challenging to maintain for taking a decent photo so international standards for baby photos are not so rigid. Your baby ID picture must meet the following US passport photo requirements:
The baby should look straight at the camera
Both eyes should be open and ears clearly visible
The child should have a neutral expression, with mouth closed, not smiling
The background should be white or off-white, or of plain light colors such as cream, light blue or white
Photo should be taken in a bright room without any shadows across or behind the face
There cannot be any other objects on a toddler's face or background, such as toys, parent's hands, hat, baby's hand over face, blanket on face, etc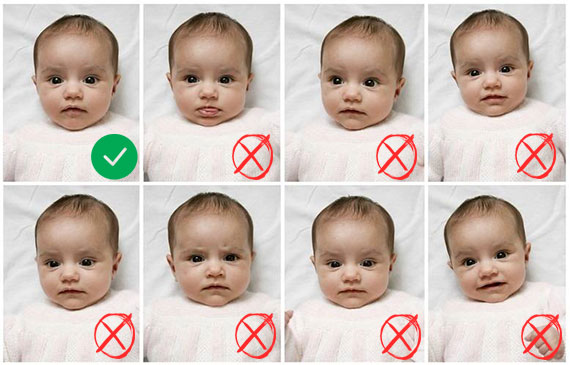 When renewing your United States passport or receiving the first ID document in your life, you need a photo that meets official requirements in all aspects. A convenient US passport photo tool will save you time and money by making sure that your photo is right from the first time.
Passport Photo Maker software will help meet all the official requirements so you won't need to check them out on in the Internet and worry that your picture may be rejected. Need a Canadian visa picture or passport picture templates for Ireland? Passport Photo Maker will offer you not only the USA passport photo template but also ID types for most countries in the world.
Check out more guides on passport photos: