UK Passport Photo Requirements
If you intend to apply for the new UK passport or renew your old one, you've probably already heard about the new requirements for passport photos resulting from the introduction of biometric passports. Such passports have become common across the world since they make it easier to prevent theft of identity and fraud. What is the meaning of biometric identification, and what changes does it bring?
Biometric details are features unique to a person, such as iris, facial features, or fingerprints. Every passport issued in the UK today must contain biometric data of the holder. These data are received by measuring the facial features and then converting the measurements into values stored on a chip. The details to be measured - the distances between eyes, nose, mouth and ears – are taken from the photo you supply. Therefore, it must comply with the official passport photo guidelines. Following them, you will avoid problems and delays while processing your passport application.
What Size is a UK Passport Photo
It's a common thing that the officials deny passport applications. One of the main reasons is incorrectly made photos. Each time you submit your application, you will have to pay a fee. To make sure that your passport photo meets all the requirements and is sized correctly, follow these british passport photo size instructions:
The dimensions of the picture must be 35x45 mm, that is 3.5 cm wide and 4.5 cm high. Any photo booth in the UK will give you photos of this standard size.
The photograph must show your full head and the top of your shoulders. Your head from the top to the chin should measure 29 to 34 mm.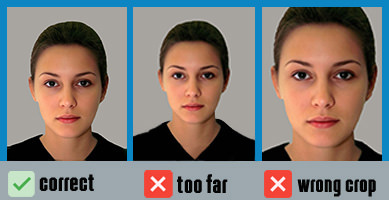 Other Rules for UK Passport Photo
There are some more British passport photo requirements to comply with. If you do not want your passport application to be rejected, you should pay special attention to the quantity and format of your photos, the face and background, the hairstyle and spectacles.
Number and Format
You have to submit 2 identical printed images if you apply for a new passport using a paper form. For online application, you will need a digital photo in the JPEG or PNG format. The photographs must be taken within the last month and accurately reflect your current appearance. No borders, creases, tears, writing or other marks are permitted on printed photos.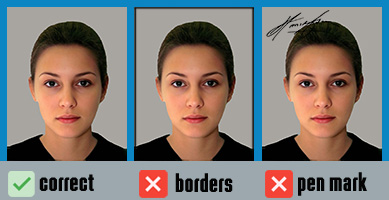 Background
Find a plain cream or light grey background, other colors are not accepted. Besides, mind that there should not be any other people, any patterns or objects in the background. To avoid shadows behind your head, manage the lighting - use natural light sources, for example, face a window, or place the ceiling light or electric bulbs properly.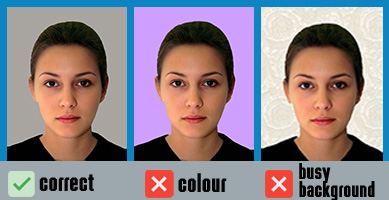 Face
According to the UK government passport photo requirements, the face must be in focus, clear and sharp. Face forward with a neutral expression and the mouth closed. Don't smile, don't frown, don't bend your brows to avoid face distortion. Red eyes are not allowed. Don't overuse makeup and remove massive head jewelry. Hair must not hide any part of the face. If you have really full hair, tie it back. Head covering is only allowed for religious beliefs or medical reasons.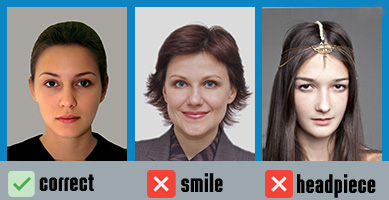 The demands to baby passport photos in the UK are not that tough. Children under 5 years old don't have to look straight at the camera with neutral facial expression. Infants aged 1 and under don't need to have their eyes opened and mouth closed.
Glasses
If you're wearing spectacles and don't find it possible to remove them for a passport photo, do not let them cover any part of your face. Your eyes must be clearly visible that is why heavy frames are not permitted. Also, avoid flash reflections and glares on your eyeglasses. Tinted lenses or sunglasses are forbidden on the UK passport photos.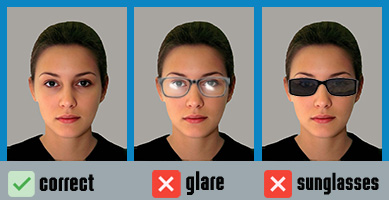 Requirements for Digital Passport Photo
Online application for the UK passport is popular among visa submitters these days. You don't have to visit the post office and the fee is lower so submitting your documents online is literally time- and money-saving. Digital passport photo rules are basically the same as for printed images. Apart from the main demands to the background, face and posing, the digital photograph must be:
At least 600 pixels wide by 750 pixels high
At least 50 KB and at most 10 MB
Clear and focused
Colored
Untouched by photo editing software.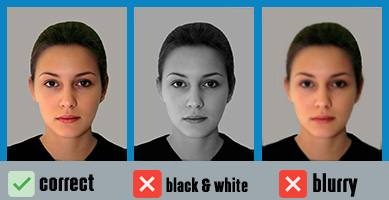 How You Can Make Your Own Passport Photo at Home
To get a verified passport photo in the UK, you don't have to go to a photo studio or a photo booth. These days, you can easily make it yourself. If you decide to make a passport photo at home, try Passport Photo Maker - it's one of the best tools to help you prepare proper passport photos.
Creating a DIY passport photo, you can take your time and choose the perfect image. The crucial steps include cropping and printing the photo. Passport Photo Maker software comes with a smart cropper - a biometric features recognition module. With it, you will instantly crop your photos in strict accordance with the latest government criteria. Just add your photo, select the UK passport photo template and click Crop. After that, you can adjust the background color, enhance the photo quality, and prepare a print layout.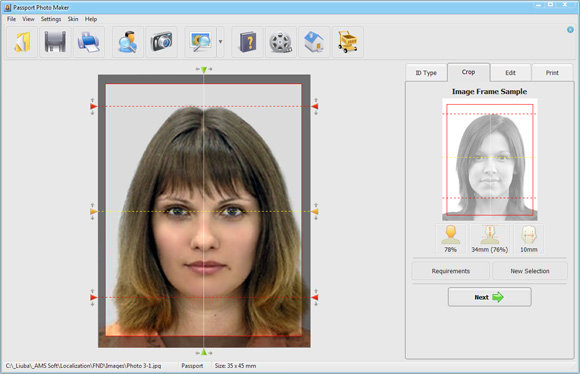 The British passport photograph must be printed to a professional standard. If you don't have a photo quality printer at home, the best thing to do is to create the print layout in the program and take it to a print shop. For an online application, set the format and the size of the digital photo and save it. While working with the ID photo editor, you will get tips and hints to guarantee that your photos will pass the passport office regulations.
With Passport Photo Maker software, you can easily edit a photo for a Canada visa, US visa, Schengen visa, passports of different countries, driving and firearms licenses, as well as other types of official documents without leaving your home.
Check out more guides on passport and ID photos: