What to Do When You Lose Your Passport
'Oh no! I've lost my passport!' Have you ever experienced this? It's an annoying mess in any case and can seem the worst nightmare under certain circumstances. But don't panic, it's not the end of life! You can surely sort out this issue. Let's discover what happens and what you should do when you lose your passport.
What Happens If You Lose Your Passport
For Americans, a passport is literally the key to the world. It gives US citizens a possibility to travel abroad. Without the passport you won't be able to access US assistance and consular services while you are in foreign lands. Also, you can re-enter your home borders only with your passport in hand. If you lose your passport, you'll face some troubles but look at it positively - you can get a new passport within a few weeks and with a better photo this time.
Step-by-Step Guide to Get Your Lost Passport Replaced
Replacing a lost passport is not a complicated procedure. You just need to take a few easy steps to get it done. Those are listed below.
Step 1 - Report Lost Passport
The first and a must thing to do when your passport got lost or stolen is to report it to the US Department of State. It's highly important to invalidate your passport because someone can use it to steal your personality. As soon as the passport is invalid, no one can use it for international travel and you are protected from identity theft.
To report your missing passport, call the National Passport Information Center at 1-877-487-2778 - the number is toll-free. Or visit the Department of State's official website, fill in the Form DS-64 and submit it online. Alternatively, get a hard copy of the needed form, fill it out by hand and mail it to the specified address.
Step 2 - Gather All Documents
For replacing your lost passport, you'll need to make an appointment at the nearest passport center or regional agency. Call there and schedule a visit in person. Bring the following documents to your appointment:
Form DS-11 - a standard application for a new US passport, filled in and printed out.
Form DS-64 - a statement regarding your missing passport.
A passport photo - 2x2 inches in size, in color, recently taken.
A proof of your US citizenship - can be a birth certificate.
A proof of your identity - can be a driver's license (a photocopy of the front and back).
A travel itinerary.
A fee for a lost/stolen passport.
Step 3 - Get New Photos
Getting photos for a new US passport is worth special attention. The image must be made according to the latest US passport photo requirements to its size, background, the applicant's posing, clothing and appearance.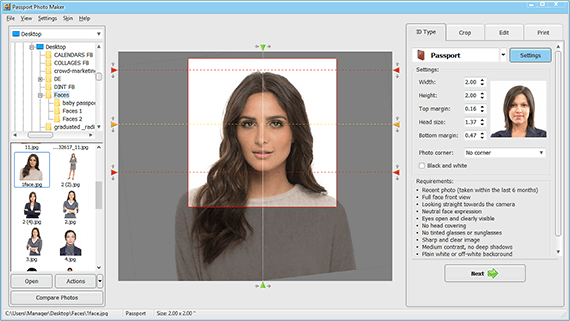 Need a digital copy of passport photo urgently? Don't waste your time looking for a photo studio, get started with Passport Photo Maker right now. This easy passport photo software will help you prepare a proper passport photo within mere minutes. You can create biometric passport photos with the auto crop option, get rid of the red eyes effect with the red eye removal, change the background and adjust contrast, brightness and saturation to improve your image quality.
Create your new passport photo with Passport Photo Maker!
Step 4 - Pay All Bills
The process of US passport replacement is rather expensive these days. You have to pay $110 for a passport book. The current price for a passport card is $30. So, receiving a passport book and a passport card package will cost you $140. Besides, for quickly replacing a lost passport, if you are leaving the country within 2 weeks for instance, you can expedite your application. The expedited service requires additional $60.
Step 5 - Get New Passport
The standard time to wait for your new passport is as follows:
Regular Service - About 4-6 weeks from the time of application.
Expedited Service - Up to 3 weeks (door-to-door if 2-way Express Delivery chosen).
Expedited at Agency - Up to 8 business days from the time your application is received.
Note that the time of issuing depends on the demand - if it's low, your passport can be processed sooner; when it's high during high travel periods, get ready to wait longer. You will receive your new passport either by mail or in person at the passport office.
What to Do If You Lose Your Passport in Another Country
If you lose your passport while you are overseas, that's a seemingly worst nightmare mentioned at the beginning of this article. But the reality is not that scary. You are not the first person who it happened to, and obviously not the last one. To begin with, try to trace your passport - you might have misplaced it or forgot it in a hotel room. When you are sure that your passport got lost or stolen, go to the nearest police department and report your loss.
Next, contact the local US Embassy. The Consular section will schedule you an appointment to start the procedure of passport replacement. You'll be asked to bring your current ID and your travel itinerary. To make things faster and easier, you can provide a color photocopy of your missing passport and a stamped copy of the police report.
Remember that an emergency passport issued by the Consulate is valid only for a year and you must apply for a regular US passport when you are back home with no additional tax.
Check out more guides on passport photos: