New Zealand Passport & Visa Photo Requirements for 2020
Want to go to New Zealand to see how really huge the Kiwi birds are? Or want to gain a permanent residence and settle in Shire? Whichever is your reason for going to this distant but exciting country, there are tons of things you should take into account while preparing your travel documents. And one of the most important things is the perfect photo that would comply with all the New Zealand visa photo requirements set by the country's Immigration Office.
In this guide, we'll tell you about the latest New Zealand passport/visa photo size to help you prepare to emigrate or just visit the Land of Oz. You'll learn about all the rules and required photo dimensions you need to follow to ensure that your photo passes verification. Besides, we'll share a few tips on how to make the perfect picture hasslefree with smart ID photo software!
Need a NZ passport/visa picture ASAP?
Create a fully compliant pic with Passport Photo Maker.
New Zealand Passport Photo Size
As a matter of fact, New Zealand passport and visa photo requirements are very similar, but in order to avoid any confusion, we'll show them separately. First, here's the information on a passport photo:
The photo should be 35*45 mm. It should be a close-up of your head with the top of your shoulders visible. Your face is supposed to take up 60-70% of the picture or 29-34 mm from the chin to the crown
The picture should be taken within the last 6 months
The photo must be in color
The background of the picture should be either plain cream or light grey with no pattern
Your face should look straight at the camera (portrait style)
Your picture should be evenly lit, with no shadows from your hair obscuring your face
You are required to provide two pictures
The back of one picture should have a handwritten statement "I certify that this is a true likeness of (the applicant's full name)"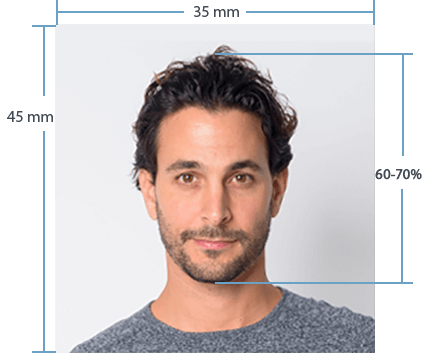 And here are the specifications for a visa photo:
A single digital photo must be submitted online
The picture must be in the JPG format, its dimensions varying between 900 and 2250 pixels in width x 1200 and 3000 pixels in height
Make sure that the size of your visa photo is between 500kb and 3MB. Use a digital photo resizer, if needed
Your face - from the chin to the crown of the head - should take up 75% of the picture
The background should be light grey with no pattern
Your picture should be evenly lit, with no shadows from your hair obscuring your face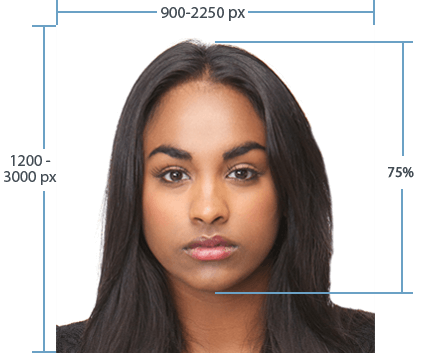 New Zealand Passport Photo Specifications
What else do you need to know about the Oz passport and visa photo to ensure that your application passes through? Have a look at these important NZ passport photo requirements and useful guidelines:
Your facial expression should remain neutral, eyes open, mouth closed
Your face and eyes must be straight towards the camera with no tilt
The camera lens must be at the eye level, not from above or below
Your photo must be printed on high-quality paper. The desirable print resolution is at least 600 dpi
Your picture - both paper and digital - should not be doctored in any way (no line softening, no filter application)
You are advised to take off your glasses while taking your picture. If you require to wear them regularly, make sure that there is no glare from the lenses. Tinted lenses or sunglasses are not allowed
You are not allowed to have headwear on, unless you wear it for religious reasons. In this case, make sure that the shadow from your headpiece does not obscure your face
Need some examples of dos and don'ts? Want to make sure that your picture fits all the criteria? Here's a handy website for you! Visit New Zealand passport photo checker online to make sure that you got everything right and that your picture will be accepted.
New Zealand Passport Photo for a Child
Baby ID pictures should comply with all the aforementioned requirements. However, there are a few additional standards you should take into consideration. Here's a little guidance for you.
If the infant is not able to sit or stand by themselves, they should be photographed lying down from above
No hands or arms of the person supporting the child should be in the shot
No other objects - like toys or pacifiers - should be visible
The baby's eyes should be open
How to Make a Perfect ID Picture with NZ Passport Photo Software
Now that you have all the necessary data, it's time to create your photo for a NZ passport or visa. And no, you don't have to go to some crowded photo salon or try to take a decent picture inside a photo booth. Instead, you can make a photo right at home. You'll need a digital camera, a few minutes of your time and Passport Photo Maker, convenient software for creating passport and visa pictures.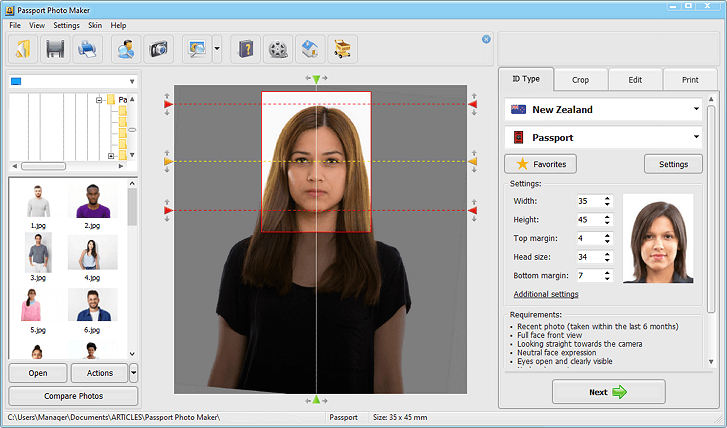 The process is fairly easy. First, take a photo with your cell phone or digital camera. Then, open your picture in Passport Photo Maker and pick the template for NZ passport or visa. The smart photo generator will automatically crop your photo according to the required sizing standards. All you'll have to do is to click "Next". In case you failed to take your picture in front of a plain backdrop of the required color, you can easily change the background color in post-production. Passport Photo Maker even comes with a digital wardrobe you can use to change your not-quite-officially-looking clothing.
Create a perfect NZ visa or passport photo with Passport Photo Maker!
New Zealand Passport/Visa FAQ
How many pixels should a NZ passport photo have? The NZ passport photo size should be between 900 - 4500 pixels wide and 1200 - 6000 pixels high. Please note that the New Zealand Passport Office does not accept scanned photos.
How to crop your photo for the New Zealand passport? First, make sure that you know the latest requirements. Then, you need to open your photo within a photo convertor and crop your picture according to the standard sizes. If you don't want to do it manually, you can use a cropping tool - such as Passport Photo Maker - it has templates for both New Zealand passport and visa pictures.
How do I get a NZ passport photo? One way is to turn to professional help:take your picture at a photo salon, photo services within major retailers, or a photo booth). Another way is to make a NZ passport photo yourself. You have the option to use mobile applications on your phone or you can create an ID picture using specialized softwares. Here you can learn how to make a NZ passport photo yourself.
Check out more guides on passport and visa photos: