U.S. Visa Photo Size & Requirements
The USA is one of the most popular travel destinations for tourists from all over the world. According to the official data, more than 70 millions of people visit this country every year. Many of them fall in love with the U.S. and decide to move there and pursue the famous "American dream". No matter what the goal of your trip is - just a temporary visit or moving to this country, you need to get a visa first.
This process is not easy, especially when it comes to taking a proper picture for the document. In order to get your application accepted, you have to follow certain requirements given by the officials. In this guide, we will be taking a closer look at all the U.S. visa photo specifications: size, background color, face expression, etc. for each type of this document. You will learn the requirements for a regular visa, non-immigrant visa, and others. Let's dive in!
Need an American visa photo urgently?
Try this passport & visa tool for free:
U.S. Visa Photo Requirements: Main Things to Consider
Don't want to waste time and money at CVS? Decided to take the photo yourself? Then you need to know the required U.S. visa photo size and other specifications like image quality or facial expression.
The general requirements for the U. S. visa

The picture should be taken recently (preferably within the last 6 months)
Your photo should be in color
2 x 2 inches (51 x 51 mm) size
Look directly into the camera, with a neutral face expression. Smiling is not allowed
Do not tilt your head or look away from the camera
The photo should be of high quality, without any grain, underexposure, etc.
Head size should be between 1 and 1 3/8 inches (22mm and 35mm)
U.S. Visa Photo Specifications: Headwear & Clothes
Here are the additional guidelines:
No strong shadows and lights on the face or background
The background should be plain white
You shouldn't put on a uniform or a camouflage. Just wear your everyday clothes
The headwear is not allowed since your hairline must be visible. However, if wearing this item on a daily basis is required by your religion, then you can put on that headwear
Since November 2016, you can't wear eyeglasses on your visa photo. Nevertheless, the glasses are allowed if you have a prescription from your doctor. Make sure that the frames don't cover your eyes, though, and avoid getting any glare
Any electrical devices like a headset are prohibited, unless you have to wear a hearing device for medical reasons

Digital Photo Requirements
When using forms DS-160 and DS-260, you have to upload your digital photos together with your online application. Just like the hard copies, these images need to comply with all the U.S. visa photo requirements:
The size should be 1200×1200 pixels
The image should be in color
File format: JPEG
Size equal to or less than 240kB
If you submit a scanned photo, it should be in 300 dpi
You can compress your picture to fit it into the allowed size. In this case, the compression ratio must be around 20:1

If you want to learn more, you can check the digital image requirements on the American embassy official website.
Non-Immigrant Visa Photo Requirements
If you are a tourist who won't be staying in the U.S. for long, then you need to apply for the non-immigrant visa. Fill in the DS-160 form, and don't forget to upload a digital photo. The image should have the same specs as the standard visa photo. You can find the exact dimensions and other requirements for it above. Before submitting this application, check your embassy website: some officials need a hard copy of your photo as well.
Immigrant Visa Photo Requirements
Decided to move to the USA and apply for citizenship? Then you just need to fill in the DS-260 form and hope that your application will be accepted. Don't forget to bring two physical copies of your photo printed on a high-quality paper as well. The images should comply with the standard U.S. visa requirements: 2x2 inches size, white background, high quality, etc.
Diversity Visa Photo Requirements
Want to try your luck and apply for the Diversity Visa Lottery (Green Card)? All you need to do is to fill in the form on the official website of the U.S. Department of State, attach your photo and submit your application. If your application gets accepted, you will receive a special code that you can send to the online validator and check if you got to the next stage - the interview. In this case, you will need to bring hard copies of your images as well.
If you are a student who is staying in America on a F1 visa, you can get the Green Card once you graduate.
To create a photo for the DV lottery, you need to follow certain requirements:
The image should be square
The picture resolution should be 600 x 600 pixels
Its size must be less or equal to 240 kB
Save the picture in JPEG format only
A scanned photo should have resolution of 300 pixels per inch
Requirements for Babies Photos
Planning on taking your baby or toddler with you to the United States? Then you need to prepare photos for the kids, too. It's not an easy task: children often don't listen to the instructions and won't stay put. Also, there are some specs for a baby photo you have to consider as well. To make the process easier, we will give you some tips on taking baby photos.
Here are the requirements:
The image must be in color, clear, sharp and focused
The child should be alone. No parents or their hands supporting the baby should be visible
The background should be light and plain. You can put a baby on a white cover and shoot from above. However, make sure to remove all the nearby toys or bottles
The baby's eyes should be open and clearly visible
The baby should look directly into the camera, there must not be any shadows on the face. To make the child look straight forward, show a favourite toy behind the camera and then take a shot.
If a baby is a newborn, the expression should not necessarily be neutral. However, it's a must for toddlers

Smart U.S. Visa Photo Tool
Once you take a photo for the visa, you need to crop it according to the required size. Although it sounds easy, blind cropping won't work - you have to follow certain standards like head size, facial area (how much space your face takes up on the photo), etc. How to do everything correctly?
Use a passport photo cropping tool to turn your regular photographs into U.S. visa pictures without any undue effort. We recommend using Passport Photo Maker. This software offers biometric face recognition and auto crop features. You just need to upload your photo, select an ID type and make a click to get a perfect visa photo.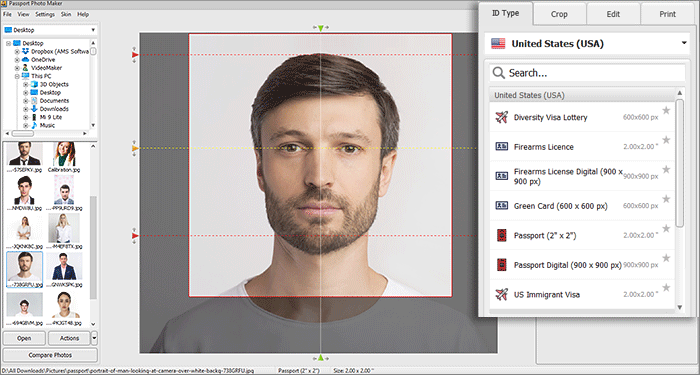 After using the auto cropper, you can quickly replace a flawed background and fill it with any color. When you're done, save your image for an online application, or print it right away on any paper format.
Get a perfect U.S. visa photo with Passport Photo Maker!
Now that you are ready, it's high time to create your picture. You have all the necessary knowledge on making a visa photo, so put it into pratice and get a perfect shot in a flash, all by yourself.
Check out more guides on passport and visa photos: