Japan Visa & Passport Photo Requirements
Planning on going to Japan soon or applying for a residence card extension? No matter whether you are a tourist, a businessman, or a prospective resident, it is vital to prepare your visa/passport application documents properly. Pictures are a fundamental part of the application because even a minor deviation from the image guidelines might result in the rejection of your application and a waste of time. Thus, it is helpful to check out the Japanese passport photo specifications in advance.
Wanna have a reliable tool for all official photos available 24/7?Download Passport Photo Maker now!
Download NowFor Windows 11, 10, 8, 7
Try it for free!
In this guide, you will learn all the requirements and standard sizes for Japanese travel document photos and receive some recommendations for taking your picture. As a nice bonus, you will also get acquainted with a program that can assist you in preparing your photographs.
Japanese Passport and Visa Photo Size Rules
Every country has its own photo size requirements when it comes to official documents, and Japan is not an exception. Here are all the guidelines on the sizes for you to keep in mind:
The Japanese visa photo size should be 45x45mm, which is 1,77x1,77 in inches
In a Japanese visa photo, the head has to be about 27mm high with around 7.5mm of space left above the head
The Japanese passport photo size must be 35x45mm (1.37x1.77 inches)
In a Japanese passport photo, the head should be 32-36mm high with about 2-6mm of blank space above the head
The resolution of the photo has to be 600 dpi minimum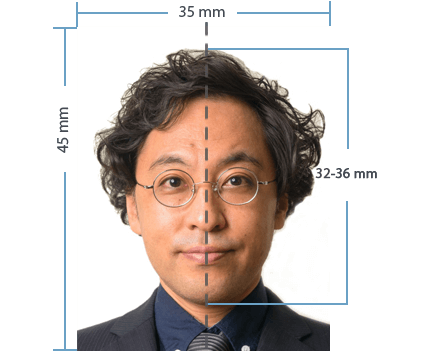 Japanese Visa and Passport Photo Specifications
Now you know the required sizes and resolutions for Japanese visa and passport photos. But is that all? No, there are also other Japan visa photo requirements that you should be aware of before taking your shot because most of them you will not be able to edit out.
The picture must be in color and taken within the last 6 months before the application
You are required to have 2 copies of your picture for a Japanese visa
Visa/passport pictures must be printed on glossy paper
The color of the visa photo background has to be plain white
The color of the passport photo background can be either white or off-white with no details
The person in the picture has to look straight towards the camera and have a neutral facial expression (no broad smiles)
The photo has to display the full-face front view with chin to forehead distinctly seen. Hair may be worn down but must not cover the face
Eyes should be open and visible, and the person in the picture should not have tinted glasses or sunglasses on
Head coverings or jewelry items are not allowed unless worn for religious reasons
The clothes on the person in the picture should be neat and contrast the background
The image should be sharp and clear with medium contrast and no deep shadows. The natural features of the person's face have to be identifiable
The eyes should not look red in the photo. Turn off the camera flash to avoid the red-eye effect
Check out some more info on the specifications for photos to be submitted and see samples of acceptable and unacceptable images if you still feel lost.
Guidelines for Japanese Baby Passport and Visa Photo
It might surprise you, but even infants need their own traveling documents. So if you are planning on traveling to Japan with your baby or toddler, you have to take their visa or passport photo as well. The rules for baby photos are not that strict, and larger deviations may be acceptable. So to avoid the long trip to the photo service center and the unnecessary stress, it might be better to take your baby's picture at home.
Take an individual photo of the baby with no objects or people in the background
Capture the baby's face on camera with his eyes open and natural features distinctly seen
Seat the little one in his go-cart or a car seat, covering the background with a white cloth to make your work easier. You can also hold the baby with your hands or lay it on his back. Remember that your hands or other body parts, toys, comforters, and dummies are not allowed in the photo
Replace the background with the help of a specialized photo editing program if it does not follow the requirements
Follow the size and lighting requirements listed in the previous sections
Japan visa photo requirements and passport photo guidelines are the same for both toddlers and babies.
An Effective Japanese Passport Photo Tool For You to Use
Now that you have learned all the Japanese passport photo specifications, you are ready to take a passport photo. No worries if the time for your application is running out! There is a quick way to get your picture without the help of professional photography service. Just ask your friend or relative to take a good quality photo of you in a place with appropriate lighting and use Passport Photo Maker to edit it.
This software allows you to choose among the typical Japanese document types, including passport, visa, and alien registration. Just open Passport Photo Maker, select Japan in the dropdown list of countries, then choose the document type, and get your template. After that, upload your photo, and the software will automatically crop it according to the Japanese guidelines for that particular document type.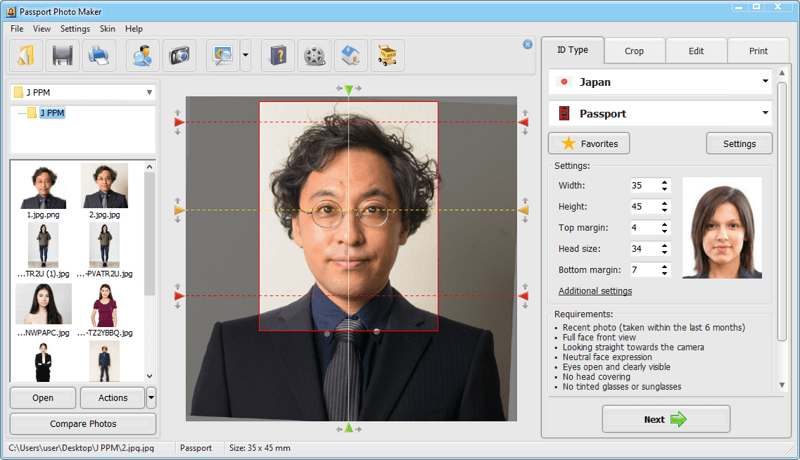 Need to change the background or edit some photo imperfections? The program is equipped with various tools that will help you rotate your picture, edit its lighting and contrast, and change the background. You can even change the clothes in the photo if needed. While retouch is also available, do not overdo it! Otherwise, your photo will be rejected. In the end, you should have a 100% acceptable image that you can print or make a digital copy to use multiple times. Just switch to the Print tab and select the paper format. 4x6 is best for combining 2 Japanese visa photos or 3 passport pictures.
Visa or passport application deadline is just around the corner?Let Passport Photo Maker help get your pics ready today!
Check out more guides on passport and visa photos: