German Passport and Visa Photo Requirements 2023
Plan to spend your holiday in Germany or maybe want to move to this beautiful country? Then you should prepare all the necessary documents. Special attention should be given to your photo. It must meet numerous standards in order to get approved by either the consulate or the Bürgeramt. In this article, you will get acquainted with all the German passport and visa photo sizes and rules. Besides, we'll give you more detailed recommendations on face positioning, light, contrast, and so on. In addition, you will get to know a powerful tool that lets you make eligible passport or visa photos in a few clicks! So let's get started.
Need a 100% approvable picture for your travel documents? Get started with Passport Photo Maker today.
Learn German Passport and Visa Photo Specifications
Whether you need a German passport or a Schengen visa (since Germany belongs to the Schengen area), make sure that your photo complies with all these specs:
German passport/visa photo size dimensions should be 35x45mm or 1.37x1.77 inches
Your face should take up 70-80% of the picture
Full frontal view of the face (as in the sample) must be displayed in the photo
The background of the photo should be light grey
The photo should be sharp-focused, clear and properly contrasted
Red eyes, reflections in the photo and shadows across the face are not permitted
Lighting must be even (not too dark, not too bright)
The image is to be printed on a high-quality paper, either glossy or matte
Print resolution of the photo must be 600 dpi minimum
The German embassy requires 2 identical photos to be submitted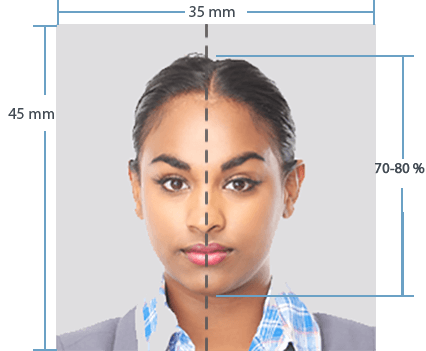 German Passport and Visa Photo Guidelines
And here are some more significant Germany passport/visa photo requirements you should take into consideration to make sure your photos won't be turned down.
You need to provide a clear look of your head in the photo. Its height must be between 32-36 mm and take around 2\3 of the picture. Be careful not to overzoom your face. Make your shoulders slightly visible, and leave some space above the head
Make a photo with proper contrast. To do it, put a sharp focus on your face when taking a photo. Avoid low contrast, blur or excessive brightness on your photos because it makes your photos invalid for the visa or passport
The German embassy only approves photos with neutral facial expressions. It's hard to identify you in a photo where you smile or have your mouth opened, frown, or make any facial gestures. In order to have valid pictures, do not tilt your head and shift your eyes
Choose a plain background for your photo. It must be neutral and provide excellent contrast with your face - grey color will be the most suitable for this purpose. Avoid any other objects behind you in the picture and let no one except you be in the frame
You can wear your glasses if the frames are not too heavy and leave your eyes clearly visible. Make sure there are no flash reflections or glares on the lenses. Remember that you're not allowed to wear sunglasses or tinted spectacles for this type of photo
You have to take your headwear off before taking a picture to correspond to the German passport photo style. The only exception is the head garments that you wear for medical or religious purposes
Avoid over- or under-exposure of your photo. Make sure that the photograph shows the natural tones of your skin with no reflections or shadows
German Passport and Visa Photo Requirements for Babies
If you are going to take your children with you on your trip to Germany, they will need a passport and a Schengen visa as well. However, the consulate requirements for a baby passport/visa photo will be less strict. That means you can easily prepare the photos by yourself, following these specifications:
Take a photo of a toddler in a seat or lying on the floor. Use a grey blanket to make the background contrast with your baby's face
Photograph your children individually. Support your kids if necessary but make sure you are not in the frame
You need to picture the front side of your baby's face. In contrast to adult passport photos, the infants can have their mouth slightly open, but they cannot have any objects like a pacifier in it
Do not give your child any toys, dummies, bottles, or other objects when taking the photo otherwise it won't be accepted
Shadows across the baby's face and on the background are not allowed. Avoid using a flash as it can overexpose a photo
Easy-To-Use German Passport and Visa Photo Tool
So how to make proper ID photos? Surely, there are always professional salons, photo booths, or CVS Pharmacy services you can use. But there is another way to make your passport or visa photos. Try creating ID pictures right at home with Passport Photo Maker - a handy photo editor. This software comes with a base of built-in photo templates for most common types of passport, visa photos for more than 130 countries.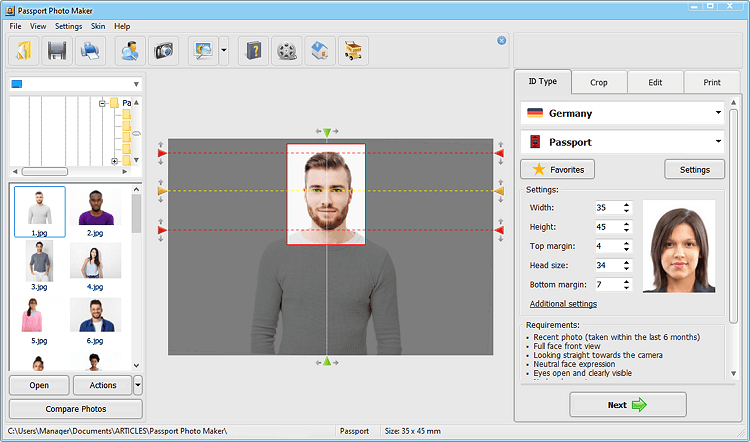 Passport Photo Maker offers you a comfy cropping tool equipped with the auto face detection function that instantly gives the image a proper size. A number of filters allow you to adjust light and sharpness and remove unwanted effects like red eyes. You can even change your clothes or the backdrop color right in the program. So give Passport Photo Maker a try to create your own ID photos hasslefree.
Deutschland's calling? Let Passport Photo Maker take care of your visa and passport pictures!
FAQ on German Passport/Visa Photos
What is the size of a German passport photo? According to German passport photo specifications, the size of your picture should be 35mmx45mm. The height of the face in the photo should be 32-36 mm. It is crucial to follow these guidelines for your photo to get approved by the officials. Otherwise, you'll need to reapply.
What is the photo size for German visa? The photo size for a visa is 35mmx45mm. German visa photo specifications also state the height of your face must be from 32 to 36 mm and make 70-80% of the photo.
Check out more guides on passport and visa photos: