Compatible with Windows
10, 8, 8.1, 7, Vista, XP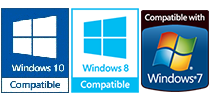 Our Customers Say:
Thank you for this excellent software and all the hard work you put into it! Our photo studio staff mastered the program in a flash, no training was needed. There's plenty of features that are extremely useful for a business like ours, smart layout printing and order statistics among them.
Malcolm Barrows, Salt Lake City, USA
I struggled with some other ID photo makers until I stumbled upon this stunning software. Everything works like a dream, the interface is cute and easy to use. Changing background and clothes are really helpful to make any photo perfect.
Ellie Stonebridge, Bath, Great Britain
Baby Passport Photo Tips

Do you need to get a passport for your little one, but can't find a good way to make the kid passport photo? Indeed, it often turns out to be a trick. Newborn children are too little to take them to a photo booth or photo studio. It is inconvenient, it is distressing and it can become annoying for everyone - for the kids, for their parents, and for the photographer.
How to complete this mission in non-stress mode? Make your baby passport photo at home! To do it, you will need your child, a camera and a passport photo editor. In this guide, we'll give you some advice on how to prepare a passport photo for a kid in mere minutes. The picture will meet all the official specs for its dimensions, proportions, colors, lighting etc. and will not be rejected.
Newborn Passport Photo Requirements:
the image must be in color, clear, sharp and focused
the photo has to be taken less than 6 months ago

the background of the child's passport photo should be light/plain colored
the baby should look straight at the camera
the baby's head should not be tilted, both ears and the chin are showing in the photo
the newborn's facial expression does not have to be neutral, but it's a must for toddlers
the child's mouth should be closed, although newborns are allowed to have it open
there should be no shadows across the infant's face or background
toys, bottles, pacifiers are forbidden in the baby passport photo.
How to Take a Baby Passport Photo
First of all, sit your infant in a baby chair covered with a white plain sheet. For too young babies, you can place a white blanket on the floor and put the newborn on the top of it. The child's outfit color should be contrasting to the white background. The children must be on their own, so do not use group photos. To take an infant passport photo at home, use a smartphone or a digital camera.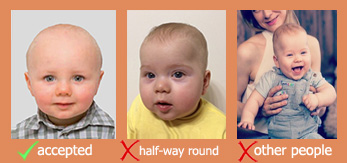 7 Tips to Take the Best Baby Passport Photo
It can be a real challenge to make a decent photograph of a newborn. However, knowing some secrets you will certainly be successful at it:
Place the camera around 1.5 meters away from the infant. Thus, you'll provide enough place to crop the image correctly for it to comply with the baby passport photo size requirements.
Place the light source in front of the child and do not use a flash. It will help you avoid any shadows on the background.
No hands showing in the photo are permitted, so If your baby needs to be supported, put your hand under the back of the child's shirt and hold their head with three fingers.
Plan the photo shoot after a feed but before your little one gets sleepy because a tired or a hungry baby is hardly a perfect model.
Although infants under 6 months do not have to look straight at the camera with their eyes entirely open, you can try drawing your baby's attention. To do that, hold a rattle or some other toy making noise behind the camera.
Take as many shots as possible - the more pictures you have, the higher the chance that one of them is acceptable.
Do not postpone taking photos until the eleventh hour so that you have enough time to retake them in case the officials delay your application.
Watch the tutorial below to see how easily you can prepare a proper baby passport photo with an ID image editor:
Infant Passport Photo Sizing Tool
Taking a photo is the 1st step in getting a passport for your child. Next, you'll need to prepare the photograph according to the baby passport photo guidelines. It can take ages to edit the picture in Photoshop or a similar photo editor. Download Passport Photo Maker and you'll get an excellent program to make a perfect image for a baby passport application with just a few mouse clicks.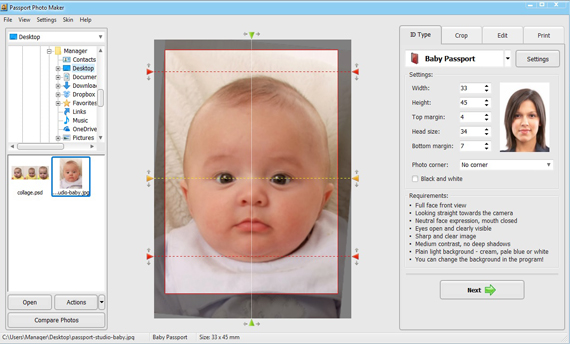 To choose the best photo, make a few shots and compare them in Passport Photo Maker. Thanks to the smart cropping tool, you can create a biometric passport photo. The facial features are detected by the program automatically, but if needed, you can crop the picture manually. Also, adjust the color balance, saturation, contrast, and sharpness to get high-quality photos. If you have a high quality printer at home, print passport photos for the baby straight away or take them to a photography shop. Alternatively, save digital images to a memory stick as an electronic copy of passport photo for online submission.
Get started with Passport Photo Maker software and try it for free - it is the best way to save your time and money when you need to get some ID photos for your family and yourself.
Create and print high quality ID photos with Passport Photo Maker!