Korea Visa & Passport Photo Requirements
Are you a tourist who's a fan of K-pop or a future resident in love with the Korean culture? No matter the reason you have for going to South Korea, it's crucial to carefully prepare your documents before applying for a visa or passport. Note that your official photo is an essential part of your application, just like the application form itself, and it must comply with all the official image specifications.
In this guide, you will learn the Korean passport photo sizes and other guidelines that you must take into account while shooting your pic. You will also get acquainted with a program that can help you prepare photos yourself so that you could avoid the crowded and noisy photo services. So let's get started!
Need an official photo for your Korean ID?
Start on your visa pic with Passport Photo Maker.
Korean Passport & Visa Photo Size Guidelines
Every country has its unique document photo specifications, which you must carefully consider before taking your picture. South Korea is no exception. Here are all the technical Korea visa photo requirements for you to keep in mind before your next application:
Passport and visa images have to be 35mm x 45mm (2x2 inch. format no longer accepted)
Head should be 25-35mm and centered, facing the camera
Photo must be no older than 6 months on the day of application
Picture background should be white
Photo must be in color without any filters
Image resolution must be no less than 600 dpi
2 photos are needed for a Korean passport application
Only 1 picture is required for a Korean visa application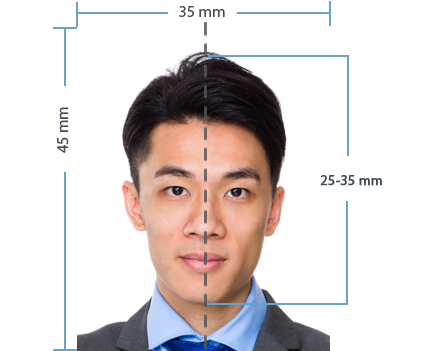 Additional Korea Visa Photo Specifications
Above, we've reviewed the technical rules for Korean visa and passport photos. However, there are some other regulations you should know while getting ready to shoot your pic.
Eyes must be open and fully visible
Beard is allowed in case it is your usual look
No uniforms are acceptable; everyday wear is okay
Headwear may be on only for religious or medical reasons
Face has to show a neutral expression with no smiles or frowns
Prescribed clear spectacles are allowed; tinted glasses are not permitted
Now, we have covered all the guidelines for Korea visa and passport pictures. For additional information, visit the official website of the Korean visa portal.
How to Take a Baby Passport Photo for South Korea
Your baby's photo should follow all the guidelines mentioned earlier, but you also have to consider some additional rules:
Baby's head has to take up at least 70% of the photo
Your baby's mouth has to be fully closed
They have to face the camera with open eyes
Top of their shoulders should be visible
Baby may be seated or laid down against a plain white background
Toys, blankets, and other items should not appear in the shot
Baby may be held, but body parts and shadows of other people mustn't be in the frame
In case you don't feel confident about taking your baby's pic yet, discover some more baby passport photo tips that might help you with the process.
Multifunctional Korean Passport Photo Software
To this point, we have covered all Korea visa photo specifications, so you are fully prepared to make your own visa pic with no professional help. You'll only need a good camera, a well-lit setting, a pair of free hands to take your picture, and an intuitive ID photo generator. Go with Passport Photo Maker, a handy software that will help you get your photo in a couple of clicks. It has up-to-date photo templates for all the Korean IDs.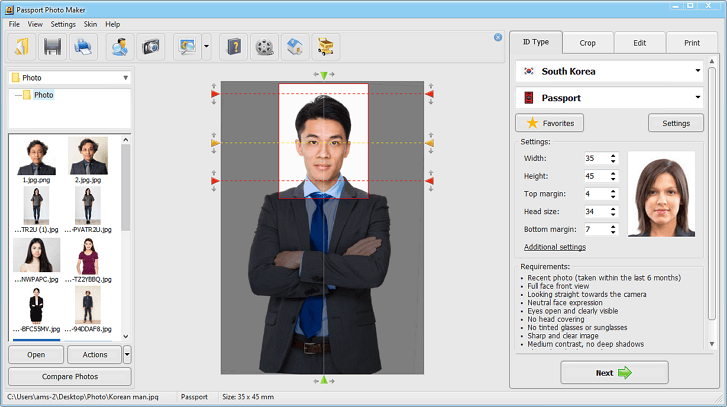 Passport Photo Maker is easy even to an amateur with no photography or editing experience. Thus, in a few steps, you'll get your official pic and higher chances that your passport will get the LSI stamp at the border. Just open the program, choose your destination country and the document type, drop your pic into the template, and there you have it! In the Edit tab, replace the background and clothes if needed. Switch to the Print tab and print multiple pictures if required so by the officials. You can also save pics in JPEG format for your online visa application.
Make a studio-quality visa photo
for your trip to Korea in a click with Passport Photo Maker!
Apart from Korean visa and passport applications, Passport Photo Maker will be helpful for most of your ID needs. It has a huge variety of templates that might be useful to Asian residents, for instance, Chinese, Japanese, and Indian citizens.
Check out more guides on passport and visa photos: