UK Driving Licence Photo Sizes & Guidelines
Are you a newly minted driver who can't wait to get your permit? Or you just need a renewal of your old driver's ID? Well, there is an important task you have to do before you get your new permit - prepare your official photo. And there are certain rules you have to follow to make an acceptable image.
In this guide, you will find all the DVLA photo requirements for the driver's photo: dimensions, resolution, background colour, and more. You will also receive some recommendations on how to take your pic to ease the process. What's more, we will show you a tool that can help you prepare your picture without leaving the comfort of your home. It will be useful even if you need a pic for your provisional driving licence. Let's dive in, shall we?
Prepare your driver's licence pics in a few moments.
Make them yourself with a handy ID photo maker!
UK Driving Licence Photo Requirements & Dimensions
DVLA in the United Kingdom has a set of specifications regarding your driving licence photo. If your image does not follow all of them, your driver permit application will be rejected. So it's better to know them even if you are taking your picture at a photo studio.
Dimensions of your picture should be 35x45mm
Your head has to be 29-34mm high in your photo
There must be a distance of 3-5mm from the top of your image to the top of your head
Your picture has to be in colour
Background of your official picture has to be light-grey or cream coloured
Resolution of your photo must be 600dpi
Your pic must not be modified by photo editors
Your photo has to be taken within 1 month before your application
Authorized person has to verify your identity in your picture if you are not a resident of any of the EEA countries and don't have a UK Biometric Residence Permit or a UK travel document
You don't need anyone to sign your photo if you are sending a digital copy of it or renewing your driver's licences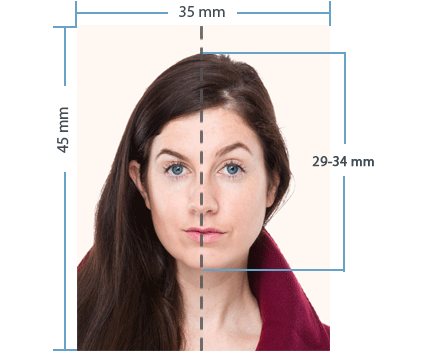 More Driving Licence Photo Rules
We have gone over all the UK driving licence photo requirements regarding sizes, background, resolution. But here are some more guidelines that are also compulsory:
Look toward the camera and keep a neutral facial expression

Don't smile, don't turn away



Keep your eyes open and avoid the red-eye effect

Make sure the photo displays your eyes correctly



Center your face and make sure it's clearly visible and has no shades on it or around

Uncover your face and make sure it's in the center of the picture



Don't have headwear on unless worn for religious reasons

Take off hats and accessories



Don't wear glasses if they are not prescribed to you, take off tinted glasses

Take off tinted glasses, or unprescribed clear ones



Print your photo in colour and make sure it's of good quality

Make sure your picture is of good quality and in color



Avoid having other people and objects in the frame, or patterns in the background

Make sure there are no other people, objects or details in the background



Still feel lost about taking your driving licence photograph? Check out the official DVLA website if you want the driving licence photo requirements and the process of taking your pic to be explained to you in more detail.
How to Make a Good Driving Licence Photo Yourself
There are a lot of photo services that can take your credentials picture today. Don't have a photo studio anywhere close to your home? Don't feel like driving anywhere far? There is a handy tool called Passport Photo Maker for your convenience. You can use it to prepare your driver image right at home and make sure it complies with all the UK driving licence photo requirements. Thanks to this software's diversity of picture templates, you can make ID images for 130+ countries in a couple of clicks. So let's move on to the tutorial to see how you can easily make an image for your new driving licence.
Step 1. Open Your Photo in Passport Photo Maker
Run the software. Once you are on the startup screen, select your picture in the left tab to start working on it.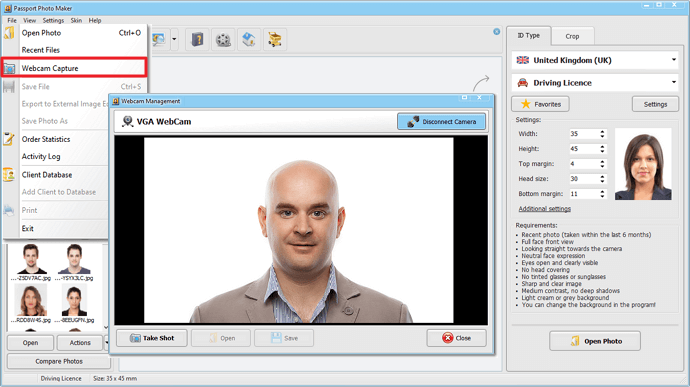 Step 2. Choose the Auto-Crop Template
Stay on the ID Type tab and browse the country drop-down menu to find the United Kingdom. Then go to the ID menu and select Driving Licence. Passport Photo Maker will apply the necessary photo template in an instant and auto-crop your picture to comply with all the UK driving licence photo size requirements.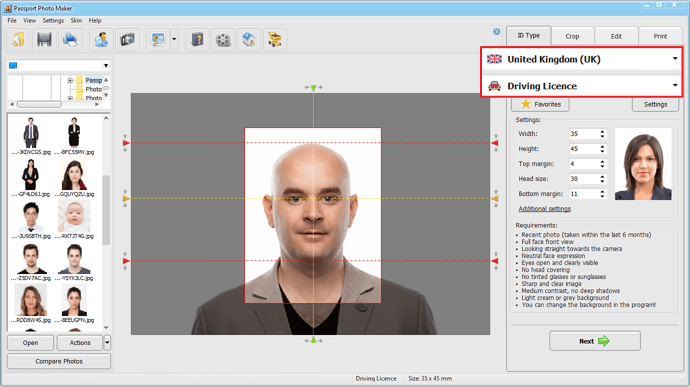 Step 3. Change the Background or Clothes
Want to look more formal in your photo? Go to the Edit tab, click Replace Clothes, and you will be able to choose a new formal outfit from the program's digital wardrobe of male and female clothes. If you took your photo against an inappropriately coloured background, you can fix that digitally by changing the backdrop of your pic. While on the Edit tab, select the Change Background tool and pick the colour that you need.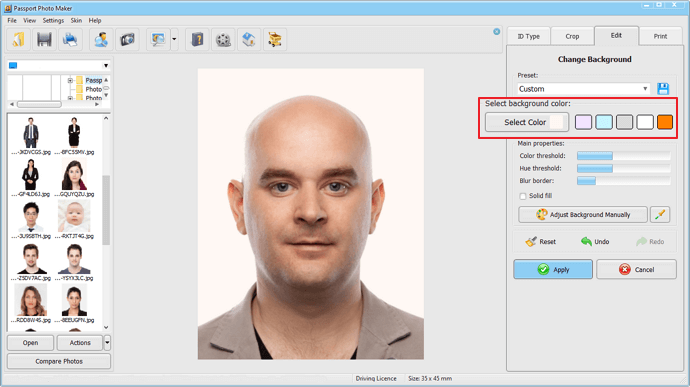 Step 4. Print or Save Your Picture
Move on to the Print tab and select the paper format you want your picture to be printed on, the number of copies you need and hit the Print Photos button. In case you are from a country outside the UK and EEA, save your image on your PC to apply online.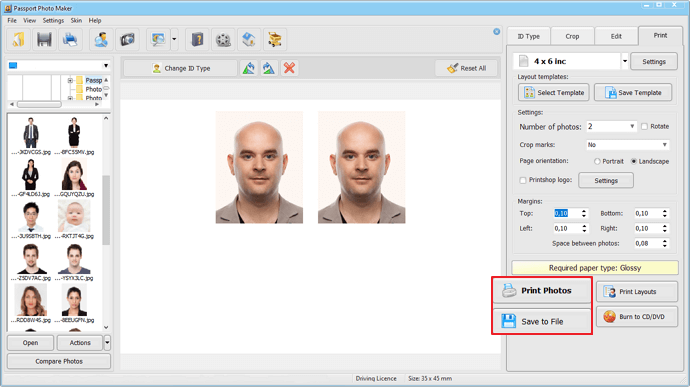 And here you go! That is all you have to know to create a 100% compliable picture for your UK driving licence with Passport Photo Maker. The program also has a great selection of other templates in case you are planning to apply for other IDs any time soon. Need to make your first UK passport or renew your current one? Make sure to check the UK passport photo requirements before you take your official picture and then, use Passport Photo Maker to quickly prepare it for your application.
Check out more guides on passport and visa photos: