UK Visa Photograph Requirements
Traveling to the UK for work, study, or tourism any time soon? No matter the reason you have for visiting this magnificent country, your visa should receive proper consideration. But mind that this process isn't only about collecting documents and visiting the British embassy. Your official photo is also a significant part of your visa application. In case your visa picture doesn't follow specific requirements, your application will be rejected and your trip will have to be delayed.
In this guide, we will go through all the UK visa photograph sizes and specs. This way, you can ensure your photo will be accepted by the officials and your travel plans won't be ruined. Apart from that, we will show you helpful software that helps make official photos for any ID type automatically: visas, biometric passports, Green Card, etc.
Want to avoid any issues with your UK visa photo?
Make it in a smart visa photo generator automatically.
UK Visa Photograph Size Specs
Every country has different requirements for each local ID type when it comes to dimensions. Your head, the spacing above and below it, and the picture itself all have to be of particular sizes. Otherwise, your image won't be accepted. So to help you avoid any troubles and save time, we have made a complete list of the UK visa photograph requirements for you to refer to:
The UK visa picture should be 35x45 mm in size
Your head must be 29-34 mm high, and the top of your shoulders should be in the frame
There must be a distance of 3-5 mm between the top of your head and the top of your picture
The background should be cream or light-grey with no patterns or shadows
The photo has to be printed in color
You need 2 copies of your image for your visa application
Your visa picture should be taken within the last 30 days before your UK visa application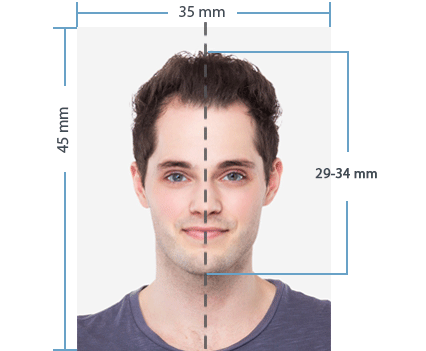 Additional UK Visa Photograph Specifications
Apart from size guidelines, there are some other rules you have to follow while taking your UK visa picture. A couple of them should be considered even before you visit your photographer. Here is the list of specs along with examples of accepted and rejected images to make it clearer:
Your appearance in your visa image shouldn't be modified by photo editors

Make sure your photo shows your natural features



You should look straight towards the camera with your eyes open and clearly seen

Center your head and look at the lens of the camera



The photo must be of good quality and have proper lighting

Take a photo of hight resolution in an appropriate setting



You should have a neutral facial expression

Take your picture with a relaxed facial expression



Hair is allowed down, but shouldn't cover your face. Beard is permitted if you regularly wear it.

Make sure your hair dosn't cover your face



There should be no other people, objects, or shadows in the frame

Take an individual photo with no extra people or objects



Headwear is not allowed if not worn for religious or medical reasons

Don't wear hats if not for religious or medical purposes



Unprescribed glasses are not permitted; there must be no glares on lenses

Don't wear glasses if they are not prescribed to you



There are no rules for attire, but we suggest it be in contrast with the background color

Wear a contrasting outfit
Need more details on the guidelines for your UK visa photos? Check out the UK Border Agency website to see all the official specifications for your United Kingdom visa application.
Child Photo Requirements for the UK Visa
Traveling to the United Kingdom with your child or infant? Even though it might be challenging to take an official photo of a restless baby, most requirements listed above still apply. However, there are some exceptions for younger children. Here are all the guidelines you have to know for taking your kid's visa picture along with some life hacks to make the process easier:
Every child needs an individual photo with no other people in it.
The requirements regarding lighting, sizes, and background listed above apply.
No toys, blankets, or other objects are allowed in the frame.
Children above 12 months have to have their eyes open and clearly visible. Younger babies may have their eyes closed or open.
Kids above 6 years have to have a neutral facial expression and look straight toward the camera. If the child is 6 or younger, a neutral facial expression isn't mandatory.
You may take a picture of your baby lying down or sitting in a car seat, but the background must be of an appropriate color. Just put a cream or grey cloth to cover the actual background.
You may hold your baby while taking their photo, but your body parts must not be in the frame.
How to Make UK Visa Photographs Yourself
Photo services might be pretty expensive and frustrating to visit especially if you need to take an official picture of your baby. Besides, most people simply don't have a photo studio or a CVS nearby. A smart solution to this problem is to make your ID photos at home with Passport Photo Maker. You don't need to be a photographer to use this program because it crops your pictures automatically. All you have to do is import your images and choose a template. Let's dive into the tutorial to see the software in action.
Step 1. Open Your Image in Passport Photo Maker
Run the program. Once you find yourself on the startup screen, hit the Open Photo icon. Choose your photo from the folder on your PC. In case you haven't taken your picture yet, do it right in the software. Go to the File drop-down menu and choose Webcam Capture. Connect your camera and take your shot.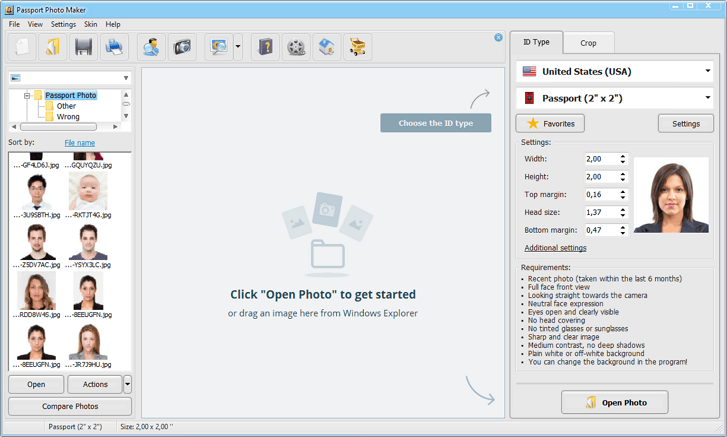 Step 2. Choose the UK Visa Photo Template
On the ID Type tab on the right, choose United Kingdom (UK) and Visa. You will see all the requirements regarding the selected phototype at the bottom of the tab. Move the red and yellow markers to help the program recognize your head and eyes and properly center your picture. Hit Next.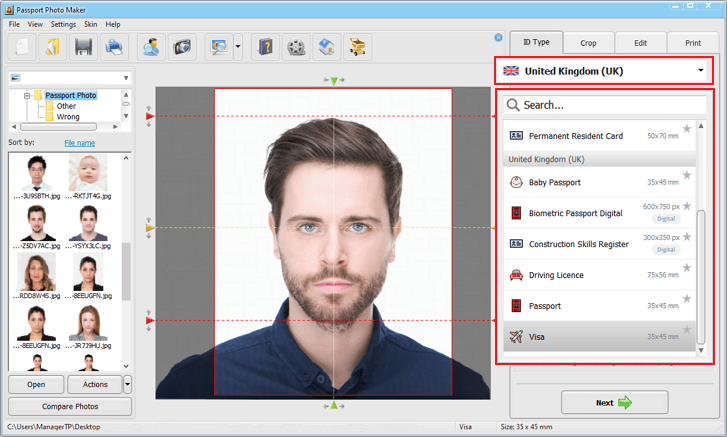 Step 3. Edit Your Photo If Needed
On the Edit tab, you can fix the lighting and contrast in your picture, replace the background and clothes. To switch the backdrop, choose the Change Background tool. Click Select Color and pick the needed tone from the program palette. Your new background will be applied automatically.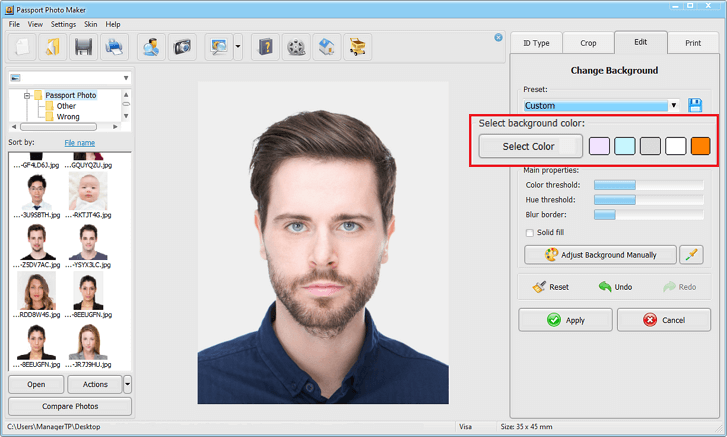 Step 4. Print Your Picture for the UK Visa
Go to the Print tab and choose the paper format. You need only 2 UK visa photographs, so 3.5x4.5 inc would be enough. Then, hit Print Photos, and there you have official images for your immigration or visitor ID. Don't have the paper of appropriate size or quality? Save your photos for printing at a photo service.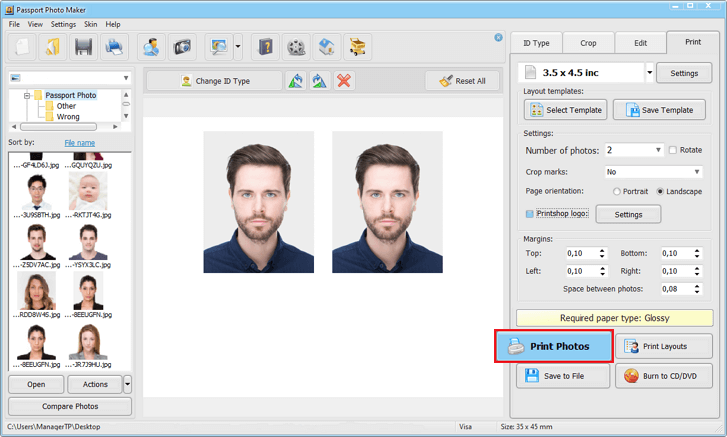 Now you know all the United Kingdom visa picture specs and may be confident at your photoshoot. Besides, you have handy software at hand that will make not only visa photos, but pictures for other credentials as well. Need to renew your UK passport or planning to become a permanent resident of England? Check out the UK Passport Photo Requirements to get your picture right.
Apart from photos for UK IDs, Passport Photo Maker will come in handy for lots of other official images. You can use it to make a 2x2 photo for your stay in the USA or an official photo of other sizes no matter whether you are an Indian citizen or a citizen of any other country.
Check out more guides on passport and visa photos: