Compatible with Windows
10, 8, 8.1, 7, Vista, XP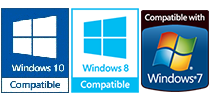 Our Customers Say:
Thank you for this excellent software and all the hard work you put into it! Our photo studio staff mastered the program in a flash, no training was needed. There's plenty of features that are extremely useful for a business like ours, smart layout printing and order statistics among them.
Malcolm Barrows, Salt Lake City, USA
I struggled with some other ID photo makers until I stumbled upon this stunning software. Everything works like a dream, the interface is cute and easy to use. Changing background and clothes are really helpful to make any photo perfect.
Ellie Stonebridge, Bath, Great Britain
How to Change Background on Passport Photos
Passport photo requirements vary from country to country. Apart from the photo dimensions and composition guidelines, there are always strict rules for the photo background. While plain background is a must everywhere, the required background color is different. According to British passport photo guidelines, it must be cream or light grey; in the United States, the officials require plain white or off-white background; in the Netherlands, they will accept light grey, pale blue, or white etc. It's vital to check the official background guidelines before printing a passport photo, especially if you do that for your customers.
Having a selection of backdrops in different colors may be costly for small photography businesses and startups. Fortunately, it is now possible to change photo background with the right software such as Passport Photo Maker. This all-in-one tool for ID photo creation has a complete photo editing toolkit, including a smart background replacement module.
The video tutorial above demonstrates two ways of changing photo background. You can do it automatically with a single mouse click or choose manual background adjustment. The latter might be necessary if the original photo has a very complicated background and you prefer to correct some details with a brush. You can also adjust the Color Threshold, Hue Threshold and Blur Border values for a perfect result.
Create and print high quality ID photos with Passport Photo Maker!